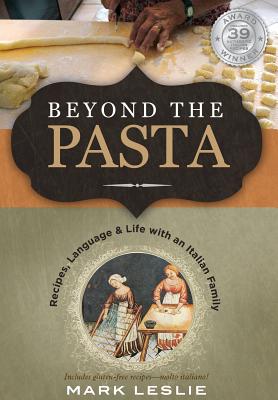 Beyond the Pasta; Recipes, Language and Life with an Italian Family
Hardcover

* Individual store prices may vary.
Description
Several years ago, on a break between theatrical gigs in Alabama, Mark traveled to Italy and fell in love with the people, food and culture. Armed with just enough courage, minimal Italian language skills, and a certain proficiency in the kitchen, he enrolled in a full-immersion cooking and language program. He would travel to Viterbo, Italy and live with an Italian family. His teachers were beyond his wildest dreams-he learned to cook from the grandmother, or Nonna, of the family, who prepared every meal in a bustling, busy household, as women in her family have done for generations. Her daughter, Alessandra, taught him the language with patience and precision. Besides culinary secrets and prepositions, they opened their lives to him, and made him a real part of their extensive family. Though the book contains authentic, delicious family recipes Nonna shared with Mark, Beyond the Pasta delves into food memoir subject matter not found in a typical cookbook. It was the day-to-day shopping with Nonna, exploring the countryside and le gelaterie, where he truly developed his language skills, and a new, more joyful and uniquely Italian way of looking at the world.
Praise For Beyond the Pasta; Recipes, Language and Life with an Italian Family…
"Mark has captured the essence of the Italian people!" –Biba Caggiano, TV chef, cookbook author, and Sacramento restaurateur.


"Alabama and Italy—what a delightful and delicious combination." –Fannie Flagg, Best-selling author and actress.


"Mark understands and so beautifully conveys the transcendent nature of true cooking, cooking that comes from the heart and feeds not just the body but the soul. There is something universal about this that goes beyond culture, age, race, and gender—real food, real cooking, real sharing is something sacred and often under appreciated. His writing is smart, sensitive and wittily observed. Beyond the Pasta exemplifies how the act of cooking is intrinsically an act of sharing and affirmation, and has the potential to be an open expression of the heart." —Scott Peacock, chef and co-author with Edna Lewis of "The Gift of Southern Cooking: Recipes and Revelations from Two Great American Cooks."

Gemelli Press LLC, 9780982102367, 352pp.
Publication Date: September 1, 2010