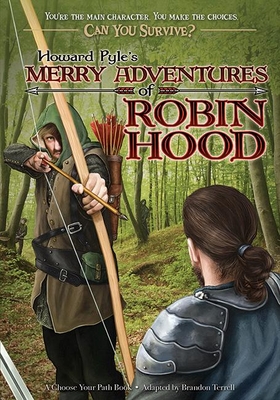 Howard Pyle's Merry Adventures of Robin Hood
A Choose Your Path Book (Can You Survive?)
Paperback

* Individual store prices may vary.
Description
You're the main character. You make the choices. Can you survive? Your land is ruled by villains. The law works against good people, forcing heroes to live as criminals. Someone must put a stop to this: you. Escape into Sherwood Forest, and prepare for the adventure of a lifetime. Do you have what it takes to defeat the evil Sheriff of Nottingham? Or will his army of soldiers thwart your noble plans? Step into this adventure, and choose your path. But choose wisely, or else Interactive books for kids are more popular than ever. Create your own adventure with the Can You Survive? book series for boys and girls.
Lake 7 Creative, 9780982118733, 156pp.
Publication Date: January 23, 2013
About the Author
When Brandon Terrell was a boy, he was tall and skinny and looked nothing like Hercules. But he was a big fan of comic books (he still is!) and superheroes. Hercules was always at the top of that list. Right next to Spider-Man, of course. Nowadays, Brandon doesn't face serpents with a hundred heads or have the proportionate strength of a spider. He does, however, enjoy writing stories about amazing heroes and incredible adventures. He is the author of numerous books, including chapter books, picture books, and graphic novels. Brandon lives in Minnesota's Twin Cities with his wife, Jennifer, and their two children.