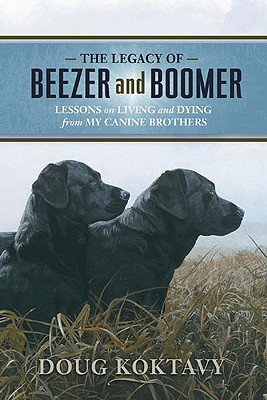 The Legacy of Beezer and Boomer: Lessons on Living and Dying from My Canine Brothers (Hardcover)
Lessons on Living and Dying from My Canine Brothers
B Brothers Press, 9780982126004, 312pp.
Publication Date: June 21, 2010
* Individual store prices may vary.
or
Not Currently Available for Direct Purchase
Description
2010 Writer's Digest Self-Published Book Awards, 1st Place, "Life Stories"
2010 Next Generation Indie Book Awards, 1st Place, "Memoirs," Finalist, "Pets"
2010 National Indie Excellence Awards, 1st Place, "Animals/Pets"
2010 Nautilus Silver Award, "Grieving/Death & Dying"
2010 Colorado Independent Publishers Association, 1st Place, "Self Help Books"
2010 Living Now Book Awards, Silver Award, "Pets"
2010 Eric Hoffer Book Awards, Honorable Mention, "Self-Help/Spiritual"2010 USA Book News National Best Book Awards, Finalist, "Animals/Pets: Health," "Best New Non-Fiction," and "Self-Help: General"An inspirational and constructive memoir about dealing with the painful emotions we go through as we care for and say goodbye to our terminally ill or aging pets. The Legacy of Beezer and Boomer describes Doug Koktavy's own journey through anticipatory grief when his beloved dogs were dying. During this time, he was engulfed with fear, guilt and hopelessness, but found strength and powerful solutions when he began to listen to his wise dogs. The award-winning book illustrates how we can learn to stay present, cope with emotions, and ultimately find peace in the most difficult situations.
About the Author
Doug Koktavy is on the board of directors of Bone Cancer Dogs, Inc., and is a volunteer with Safe Harbor Labrador Retriever Rescue. He is a moderator of the K9 Kidney Diet Yahoo Group and a member of the Bone Cancer Dogs Yahoo Group. He lives in Denver, Colorado.
Praise For The Legacy of Beezer and Boomer: Lessons on Living and Dying from My Canine Brothers…
It is a rare snapshot into anticipatory grief, the very real pain we go through when our pets are departing. The book will tug at your heart."  Betty J. Carmack, author, Grieving the Death of a Pet
Not only is it so well written that you become a bystander observing the story from within, but the compassion for the vital connection we share with this wonderful kingdom oozes out of and between the lines."  Martin Goldstein, DVM, author, The Nature of Animal Healing
A heartfelt, transformative book about a difficult life journey. The pure unconditional love, living in the presence and acceptance of what life has to offer enables our animal companions to be a source of intellectual, spiritual, emotional, and psychological inspiration."  Jane Shaw, DVM, PhD, director, Argus Institute, Colorado State University Veterinary Teaching Hospital
This unique book provides a welcome new tool in pet care, offering a subjective perspective on the reciprocal and health-promoting nature of our relationships with animals. This book will help thousands of people."  Alice Villalobos, author, Canine and Feline Geriatric Oncology: Honoring the Human-Animal Bond
If you share your life with pets who are truly your best friends or family, you must read Doug Koktavy's book. You'll relate to his life with his beloved Beezer and Boomer in a thousand ways. And your life will be richer from having met them."  Laurel Lagoni, president and CEO, World by the Tail, Inc.
Setting this memoir apart is the sense of unfolding wonder and even joy amid very real sadness. If you think a book about two dying dogs is too sad to read, think again. Koktavy's story encompasses the circle of life with all its heartfelt emotions, the purest of which is love."  Sally Rosenthal, Best Friends Animal Society
Advertisement