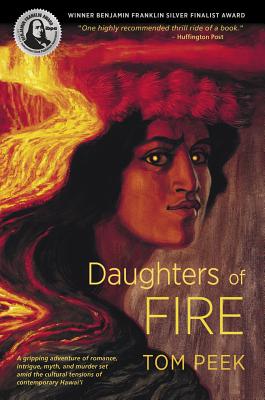 Daughters of Fire
Paperback

* Individual store prices may vary.
Description
Daughters of Fire is a gripping adventure of romance, intrigue, myth and murder set amid the cultural tensions of contemporary Hawaii. A visiting astronomer falls in love with a Hawaiian anthropologist who guides him into a Polynesian world of volcanoes, gods and revered ancestors. The lovers get caught up in murder and intrigue as developers and politicians try to conceal that a long-dormant volcano is rumbling back to life above the hotel-laden Kona coast. The anthropologist joins forces with an aging seer and a young activist, and these three Hawaiian women summon their deepest traditions to confront the latest, most extravagant resort as the eruption and the murder expose deep rifts in paradise. More than a decade in its research and writing, Tom Peek's mystical and provocative debut novel picks up Hawaii's story where James Michener left off. Daughters of Fire illuminates how the islands transformation into a tourist mecca and developers gold mine sparked a Native Hawaiian movement to reclaim their culture, protect sacred land, and step into the future with wisdom and aloha. Winner, 2013 Benjamin Franklin Silver Finalist Award for Popular Fiction from the Independent Book Publishers Association Places come alive for the reader on every page of this taut, deftly constructed novel. . . . Peek is a storyteller extraordinaire, cut from an older cloth seldom seen today. Susan Y. Najita, The Contemporary Pacific From the historical to the scientific, the spiritual to the political, to corruption and eruptions, this carefully researched thriller MUST be made into a film Victoria Mudd, Academy Award winning producer of Broken Rainbow and Tibet: Cry of the Snow Lion This is a book about power and justice . . . one of the most factually aware novels I ve come across. Anthony Pignataro, Maui Time Weekly Tom Peek's understanding of place, culture, and current issues is deep and respectful . . . this is a terrific read. Maile Meyer, founder of Native Books / Na Mea Hawaii A page-turning thriller on the surface, a deep meditation on culture one level down, a spiritual tour-de-force at the core. Arthur Rosenfeld, tai chi master, television host and novelist Tom Peek has lived a life worthy of Melville, Twain and Stevenson. . . . The book, with multiple plotlines . . . has drawn comparisons to Michener's Hawaii. John Burnett, Hawaii Tribune-Herald An epic tale . . . steeped in culture, mythology, and spirituality. Misty-Lynn Sanico, HawaiiReads.com Tight, gripping drama that exalts the power and mystery of nature over the supremacy of man. For anyone who can see and feel and know there is sacred all around us. Nelson Ho, past chair, Sierra Club Hawai i Chapter "Takes us into the spiritual and cultural depths of Hawaiian traditions, masterfully presenting a worldview that deserves our consideration as rampant development threatens to destroy traditional cultures worldwide." Edwin Bernbaum, author of Sacred Mountains of the World.
Bess Press, 9780982165621, 494pp.
Publication Date: October 15, 2012
or
Not Currently Available for Direct Purchase