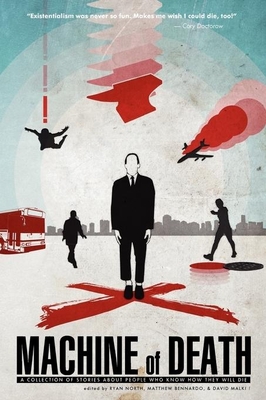 Machine of Death
A Collection of Stories about People Who Know How They Will Die
Paperback

* Individual store prices may vary.
Description
Machine of Death tells 34 stories about people who know how they will die. The machine doesn't give the date or specifics; using only a blood sample, it just spits out a sliver of paper upon which are printed, in careful block letters, words such as drowned, cancer, old age, or choked on a handful of popcorn. The realization that we could now know how we are going to die changes the world: people became at once less fearful and more afraid. For every possibility the machine closes, it seems to open several more, with varying degrees of plausibility. Over time the machine is reverse-engineered and duplicated. Eventually there are machines in every doctor's office and in booths at the mall. People can pay someone or perhaps get it done for free, but the results are the same no matter which machine is used -- they are, at least, consistent. Machine of Death features stories by Randall Munroe, Ben Yahtzee Croshaw, Tom Francis, Camille Alexa, Erin McKean, Jeff Stautz, and many others. The book also features illustrations by Kate Beaton, Kazu Kibuishi, Aaron Diaz, Jeffrey Brown, Scott C., Roger Langridge, Karl Kerschl, Cameron Stewart, and many others.

Praise For Machine of Death: A Collection of Stories about People Who Know How They Will Die…
"Machine of Death is a marvelous collection, riddled with intelligence, creative reach, and a frankness that makes the best use of the central gimmick." Tasha Robinson, The Onion A.V. Club

"For an anthology that deals with the inevitability of death, Machine of Death is a lot of fun. The editors knew not to start off heavy, nor does the tone of the anthology lean too long in any direction, providing a lot of singular entertainment for the reader . . . Highly engaging, interestingly crowdsourced, and crafted with a great deal of care. You'll be thinking about it long after you're through reading." Chris Greenwood, TOR.com

"The only consistent entity is the presence of the Machine of Death; the appearance of the machine, the depth of its integration into culture, and peoples' responses to it and its predictions vary from story to story. This is both wonderful and frustrating each story offers up a uniquely interesting take on the Machine of Death, which is impressive, but sometimes I found myself so taken in by one writer's universe that I wanted it to serve as canon to the rest of the book. It's not a bad complaint to have, and it's the only one I can muster . . . The book is just too good to pass up." Andrew Cunningham, Charge Shot!!!

"Picking just one good story in the Machine of Death anthology is like any of its characters escaping their foretold deaths impossible." Rating: 4/4 Christine Cabalo, Hawaii Marine

"Recalls the best writings of Harlan Ellison and Charles Beaumont and easily one of the most engaging slices of short stories I've had the pleasure to read in quite a long while. After all the years of picking up short story collections that inevitably disappoint, Machine of Death brought me laughs, terror and tears . . . Highly recommended." Maurice Greenwood, Paradox Magazine
Machines of Death, 9780982167120, 464pp.
Publication Date: October 13, 2010
About the Author
Ryan North is an author who lives in Toronto. He writes a comic strip called Dinosaur Comics which you can pick up in book form at your local bookstore, or which you can just read for free at Qwantz.com. They're pretty okay! Matthew Bennardo has lived in Cleveland for the past twenty years. His stories have previously been published in Asimov's Science Fiction and Strange Horizons, among other markets. David Malki ! is the author of the Eisner-, Harvey- and Ignatz-nominated comic strip Wondermark. His latest collection is Dapper Caps & Pedal-Copters, published by Dark Horse Books. He lives in Los Angeles and he likes to fly airplanes. Read his comics at Wondermark.com. Randall Munroe, a cartoonist from southern Virginia, is the creator of the webcomic xkcd (xkcd.com), one of the most popular comics on the Internet. Formerly a roboticist at NASA, he now makes a living writing comics. He spends his time drawing, traveling, and training computers to beat humans at Rock-Paper-Scissors. He lives in Massachusetts. Kate Beaton draws men in fancy hats for a living. On an exciting day she'll draw a character with epaulets. Visit her at Harkavagrant.com.
or
Not Currently Available for Direct Purchase