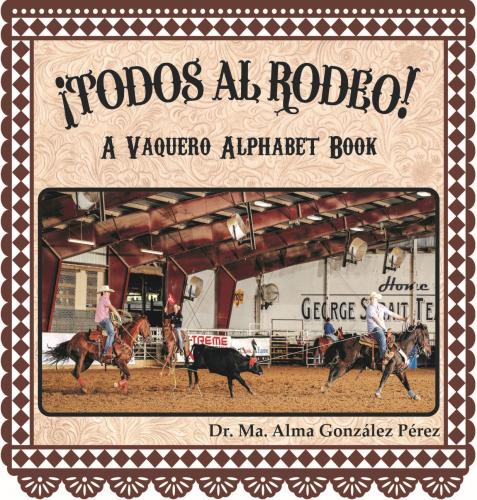 ¡TODOS AL RODEO! A Vaquero Alphabet Book (Hardcover)
Del Alma Publications, LLC, 9780982242278, 40pp.
Publication Date: September 4, 2020
* Individual store prices may vary.
Description
Third in our series of popular bilingual alphabet books, this picturesque children's book highlights the life and the history of the vaquero (cowboy). It includes many concepts like rodeo and lasso that emerged with the arrival of the Spaniards in the New World. Consequently, the cattle industry began and thus, the vaquero terminology was adopted and adapted by the English language. Exposing children to the origin and use of the vaquero vocabulary is the main objective of the book.
About the Author
Dr. Ma. Alma González Pérez is an advocate for bilingual and dual-language education. She is the author of several books, including several award-winning children's bilingual books, among them ¡Todos a comer! – A Mexican Food Alphabet Book (Del Alma Publications, 2017) and ¡Todos a celebrar! - A Hispanic Customs & Traditions Alphabet Book (Del Alma Publications, 2019).

Dr. Pérez was raised in a ranch that was part of the Spanish land grants issued to her great grandfather and his descendants in the 1800's. Since an early age, she experienced life on the range as she watched her father and uncle round up cattle, brand them, and move them from one pasture to another. She also lived the pain and frustration of the dry spells of South Texas that have such a drastic impact on the cattle industry even today. Hence, the vaquero way of life and history is in her blood and in her roots.

With over 40 years of experience in the field of education, Dr. Pérez was a professor of bilingual education and founding director for The University of Texas – Pan American (now UTRGV) Starr County Campus. Among the key findings of her doctoral dissertation was the POSITIVE relationship between Spanish language proficiency and academic achievement. Dr. Pérez now enjoys writing children's bilingual books, Spanish poetry, and local history as well as sharing her work with teachers and students across the country. Dr. Pérez is available via her website www.dralmagperez.com for presentations and workshops.
Praise For ¡TODOS AL RODEO! A Vaquero Alphabet Book…
A bilingual children's book that explores the alphabet through the Spanish-influenced traditions of the rodeo. Pérez's previous volume, ¡Todos a Celebrar! (2019), touched on various aspects of Hispanic culture in an alphabet book in the English and Spanish languages. In this latest addition to her series, she turns to the rodeo and its origins in the world of cowboys. Once again, the book aims to teach children new words while also emphasizing their connection to the Spanish-speaking cultures of the Americas. Each page presents a different rodeo-related concept, from arena to the zillion cattle brands, with a short description and a question designed to encourage a response, such as Have you seen a horse with horseshoes? The full text appears in both English and Spanish, and it s clear and readable in both languages. Full-color photographs, including stock images, feature rodeo cowboys as well as children on horseback in traditional costume or working with animals. Although some words ( gallop, bronco, mustang ) are drawn from the world of horses in general, others, such as escaramuza (a choreographed routine performed by women on horseback), are specific to Latino culture and Mexico's in particular. Pérez is also skilled at connecting well-known elements of cowboy culture to their Hispanic origins, making the book useful as more than just an alphabet primer. The images and text are engaging and dynamic throughout, and adults and children will find it enjoyable to read and discuss together. An attractive alphabet book that effectively explores horses and cowboys in two languages. - Kirkus Review
or
Not Currently Available for Direct Purchase