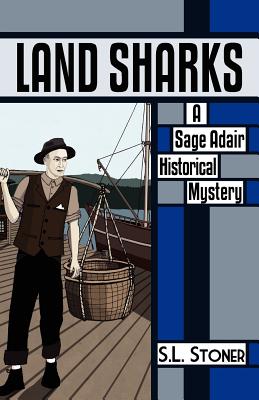 Land Sharks (Paperback)
A Sage Adair Historical Mystery (Sage Adair Historical Mystery of the Pacific Northwest #2)
Yamhill Press, 9780982318447, 256pp.
Publication Date: January 19, 2011
* Individual store prices may vary.
Description
It's 1902 and two men have disappeared, sending Sage Adair on a desperate search that leads him into the stygian blackness of Portland's underground to confront murderous shanghaiers, a lost friendship, and his own dark fears.
About the Author
Susan Stoner, writing as S.L. Stoner, is a native Oregonian who works full time as a labor union lawyer. Like that of her series hero, Sage Adair, her life has tended toward the adventurous. She has worked in skid road bars, Las Vegas casinos, free clinics and as a prisoners' advocate, psychology center videographer and federal judge's intern. Besides living in Portland, Oregon, Susan has also lived in a forest lean-to, a Sikh home in Singapore, alongside an alligator-infested Louisiana bayou, inside a sweltering Las Vegas tent, in a camper atop a 65 International pick-up truck as well as in a variety of more traditional abodes. She was a participant in Portland's original neighborhood movement and has since been involved in citizen activism, most recently by filing and winning a lawsuit to preserve Portland' s soon-to-be destroyed historical open reservoirs (one of those win the battle, lose the war experiences). She lives with her husband and dogs in Southeast Portland when they are not traveling or hanging out in the great Cascade forests. One of her passions is historical research, particularly that involving original source material. The third book in the Sage Adair series, "Dry Rot," will be released in June 2013. The fourth book, "Black Drop," awaits final editing and a fifth, "Dead Line"," "is well on its way. All are based on true events in Pacific Northwest history.
Praise For Land Sharks: A Sage Adair Historical Mystery (Sage Adair Historical Mystery of the Pacific Northwest #2)…
 "A hard-to put-down deeply satisfying and entertaining adventurer."  -- --Ross K. Rieder, President, Pacific Northwest Labor Association
 "Combines rousing adventure with accurate back-to-the-past details." --Jim Stassmaier, Oral Historian, Oregon Historical Society, ret.
 "A unique mystery...enjoyed the flavor of the old Pacific Northwest." --Labor World
 "The novel is a page turner." --Southeast Examiner
 "For those who like mysteries...it is hard to put down and the reader is rewarded with exciting drama as well as living and breathing characters."  --The Portland Alliance
 "A fast-paced, well-plotted mystery...This engrossing tale is the first in what promises to be a worthy series."  --School Library Journal 
or
Not Currently Available for Direct Purchase