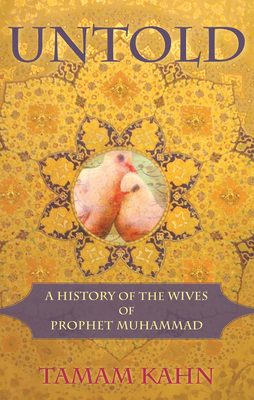 Untold (Paperback)
A History of the Wives of Prophet Muhammad
Monkfish Book Publishing, 9780982324653, 172pp.
Publication Date: August 31, 2010
* Individual store prices may vary.
Description
"Finally, we get to meet the first women of Islam. Thank you for this brave book." -Coleman Barks, author of Essential Rumi, and other books on the great Persian Language poet "Brilliant and illuminating . . . awesome in the depth of its research, the grace of its prose, and the beauty of its poetic voices." Alicia Ostriker, author, poet, and Professor Emerita of English at Rutgers University "Poet, historian and mystic, Tamam Kahn captures the voices and hearts of women you will never forget. I would gladly sit at these women's feet night after night to hear their stories. " -Elizabeth Cunningham, author of The Maeve Chronicles Untold demystifies the most influential women at the dawn of Islam: Prophet Muhammad's wives. They are presented in all their variety, among them, Khadija, a successful merchant and his only wife for twenty-five years; Umm Salama, who helped forge an important peace treaty; Rayhana and Safiyya, two Jewish captives; and there are others. This unusual book combines short biographies with meticulous research. The reader enters seventh century Arab culture and the first moments of what came to be a new religion. This book is powerful women's storytelling.
About the Author
Tamam Kahn, poet, journal editor and conference speaker is a regular presenter at Sufi Symposiums on both coasts. She has taught for the Sufi Ruhaniat International for over twenty-five years and with her husband, Pir Shabda Kahn, has led pilgrims to sacred sites in Morocco, India, Syria and Andalusia.
Praise For Untold: A History of the Wives of Prophet Muhammad…
Huffington Post
Tamam Kahn, a Sufi, has written a remarkable book. Just as Anita Diamant gave us the Jewish matriarchs in The Red Tent," and just as Marion Zimmer Bradley gave us the perspective of the women of the Arthurian legends in The Mists of Avalon," Tamam Kahn teases out, uncovers and re-imagines the women who surrounded Muhammad... Kahn's book goes a long way toward peace and surrender to the truth that Islam is a religion of the Book, just as are Judaism and Christianity. Read Untold," learn about these strong, miraculous women and weep for the years of peace that we have all lost--Dr. Susan Corso, The Huffington Post

Publisher's Weekly
A practicing Sufi, poet, and speaker, Kahn tells the little-known stories of the wives of the Prophet Muhammad in this brief book.

Usually ignored or used as salacious fodder, the stories are pieced together by the author, using the few and disparate sources on the lives and personalities of the wives. Kahn also employs the prosimetrum" technique, which intersperses narrative text with short poems that recreate, in fictional, imagined terms, some event in a particular wife's life. The unorthodox device becomes, as only poetry can, an illustrative window into early Islam and everyday Arabian life 1,400 years ago. Kahn points out that many of Muhammad's reforms were unique for their time and benefited women. Kahn also doesn't shy away from the controversial, acknowledging that Muhammad's marriage to the beautiful Zaynab, the ex-wife of the Prophet's own adopted son, may not have had the purest motivations; she also addresses the practice of veiling. With onl y a few exceptions, the Prophet mainly married widows and did so largely to form political alliances. Quite open-minded in his spouses, Muhammad even had converted Jewish wives and had a son (who died as a baby) with an Egyptian Christian woman. Even talking back to the influential Prophet, each of the women influenced Muhammad in her own way.

Tikkun

Khadija was Muhammad's first and only wife for the first twenty-five years that he was a married man. Traditional stories of Khadija portray her as calm, fearless, loving, and free of doubt. According to Tamam Kahn, author of Untold: A History of the Wives of Prophet Muhammad, Khadija was the rock upon which Muhammad built his family and religion." She was older than Muhammad. She was a wealthy businesswoman and widow, having borne children with her previous husbands.

Khadija and Muhammad had four daughters. The youngest, and favorite, was Fatima. They also had one or possibly two sons who died very young.

The open hand symbol we call hamsa which means five in Arabic is, according to Kahn, a defining symbol of protection for Muslim women, who call it The Hand of Fatima."

Khadija died at sixty-five and her death was closely followed by the death of Abu Talib, Muhammad's uncle who loved him like a son. Muhammad's relationship with Abu Talib was especially important because Muhammad's father died before he was born, and his mother died while he was very young. After Khadija died, Muhammad took twelve more wives. Ten were also widows. According to Kahn, being a widow in Arabia was difficult, and marriage to Muhammad gave each woman protection, affection, and spiritual community.

Untold employs prose and short lyric poems to bring the wives of Muhammad into a new light. The format called prosimetrum includes prose narrative with poems embedded in it. Kahn's prose carries authentic historical information from traditional Muslim sources, while her poetry adds texture and imagination. Tamam Kahn has created a new genre of Islamic literature," writes Islamic scholar Arthur Buehler. Her poetry gives us reason to linger, while the prose keeps us on the information highway.

Muhammad had two Jewish wives among the twelve he married after Khadija's death. Kahn begins her chapter about them by comparing the stories of Sarah and Hagar as they are told in the Torah and the Qur'an. She then shares her research about the Jewish communities in Arabia in the seventh century. Following an early battle during which Muhammad is betrayed by a Jewish tribe, he chooses Rayhana from among the captives as a wife, and he begins to learn from Rayhana about Jewish customs. When Muhammad brings home Safiyya, his next Jewish wife from the family of Sarah," Safiyya takes an unfortunate spill off Muhammad's camel just as she rides through a crowd of Hagar's descendents." Kahn described the scene in poetry:

They keep looking at the unconcealed
woman, spilled out, bruised. They stare at her ankle, cheek,
leg, shoulder, arm, neck, all the shock of luxurious curls,
at the trickle of blood down her arm. Safiyya will
spend the rest of her life dusting herself off, getting up
again and again as if tripped by the shadow
Sarah's words to Hagar I'll stay, you have to go.

The last line of the poem refers to Sarah, who asks her husband Abraham to send away Hagar, his other wife or concubine, together with Abraham and Hagar's son Ishmael. The story of the Hebrew Sarah and her son Isaac, and the Egyptian Hagar and her son Ishmael, are recounted in both Torah and Qur'an and figure prominently among the stories of the founders of Judaism and Islam. In Kahn's poem, she reverses the image, alluding to two of Muhammad's Muslim wives who apparently taunted Safiyya for being Jewish. In the prose surrounding the poetry, Kahn writes that she suspects that Safiyya nevertheless created friendships with other wives of Muhammad and with Muhammad and Khadija's daughter Fatima. As evidence of this, Kahn recounts that Safiyya is said to have offered Fatima precious gold earrings.

Kahn quotes author Reza Aslan from his book No god but God in which he states: If Muhammad's biographers reveal anything at all, it is the anti-Jewish sentiments of the prophet's biographers, not of the Prophet himself." In fact, positive stories about Muhammad's Jewish wives seem to be missing from theHadith a compilation of stories from the community that expound on the Qur'an and the life of Muhammad and his wives and others important to the founding of the Muslim faith. Nevertheless, according to Kahn, Moroccan Sufis regard Safiyya as a murshida (spiritual teacher), who taught Torah to the women and girls in the inner circle of Muhammad's family.

With ease and beauty, Untold gives readers a different perspective of Islam and its beginnings. As author Alicia Ostriker writes: Untold should be read with joy by any reader who hopes to transcend current stereotypes about Islam. It is a bridge between worlds."

Rabbi Pamela Frydman, the director of the Holocaust Education Project, Academy for Jewish Religion, California, helped to found Or Shalom Jewish Community in San Francisco and OHALAH, international trans-denominational Association of Rabbis for Jewish Renewal.