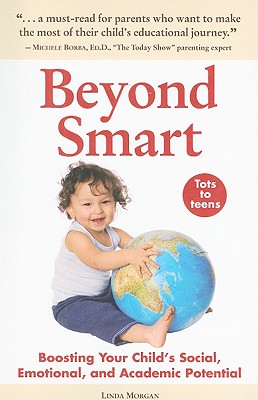 Beyond Smart (Paperback)
Boosting Your Child's Social, Emotional, and Academic Potential
Parentmap, 9780982345429, 153pp.
Publication Date: March 5, 2010
* Individual store prices may vary.
Description
Beyond Smart is the first book to give parents practical, realistic tools for maximizing all aspects of their child's educational experience, from academics to social and emotional learning, beginning from birth. Morgan provides clear direction for parents, giving them effective strategies for guiding and supporting their child's learning --beginning while the child is still in diapers - and for working with educators and within a school community. Each chapter in this book addresses a common school-related issue, breaking it down into specific, approachable problems and presenting steps towards resolution. Morgan, a veteran journalist, includes the very latest in brain and education research, and draws from a pool of world-renowned experts, including Dr. Harvey Karp, Dr. Wendy Mogel, Dr. Laura Kastner, Dr. Andrew Meltzoff, and many more. Beyond Smart provides a blueprint for parents who want to go beyond academics to support their child's social and emotional education.
Praise For Beyond Smart: Boosting Your Child's Social, Emotional, and Academic Potential…
"This book is a must read for parents who want to make the most of their child's educational journey...approachable, practical and ultimately indispensible." -Michele Borba, Ed.D., author of The Big Book of Parenting Solutions: 101 Answers to Your Everyday Challenges and Wildest Worries.