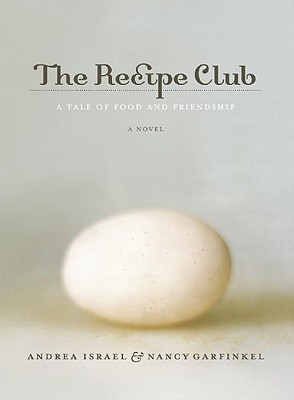 The Recipe Club
A Tale of Food and Friendship
Hardcover

* Individual store prices may vary.
Other Editions of This Title:
Paperback (9/21/2010)
Hardcover (11/24/2009)
Description
Lilly and Val are lifelong friends, united as much by their differences as by their similarities. Lilly, dramatic and confident, lives in the shadow of her beautiful, wayward mother and craves the attention of her distant, disapproving father. Val, shy and idealistic—and surprisingly ambitious—struggles with her desire to break free from her demanding housebound mother and a father whose dreams never seem to come true.
In childhood, "LillyPad" and "Valpal" vow to form an exclusive two-person club. Throughout the decades they write intimate letters in which they share hopes, fears, deepest secrets—and recipes, from Lilly's "Lovelorn Lasagna" to Valerie's "Forgiveness Tapenade." Readers can cook along as the girls travel through time, facing the challenges of independence; the joys and heartbreaks of first love; and the emotional complexities of family relationships, identity, mortality, and goals deferred.
But no matter what different paths they take or what misunderstandings threaten to break them apart, Lilly and Val always find their way back together through their Recipe Club . . . until the fateful day when an act of kindness becomes an unforgivable betrayal.
Now, decades later, while trying to recapture the trust they've lost, Lilly and Val reunite once more—only to uncover a shocking secret. Will it destroy their friendship, or bring them ever closer?
EDITORIAL REVIEWS
"Food and love without the schmaltz and warm fuzzies is what kept me turning the pages of this book. Yes, there are recipes, nostalgic and good ones, but the fascination is in how they mark the years of a childhood friendship struggling to become a life long one. If you're lucky enough to have that one true best friend, you'll find all the love, prickliness, laughter, blood curdling honesty, and joy here." —Lynne Rossetto Kasper, host of The Splendid Table®, public radio's food show from American Public Media
"I've been to many combat zones, so I kn ow a real fight when I see one—and the characters in this book pull no punches. But what surprised me is how their conflict is just as engaging as their crazy humor and deep affection for each other. This book perfectly combines my two favorite things in the world: fiction and food. It's a great read."—Bob Woodruff, ABC News anchor and journalist
"I found elements of every one of my own friendships in the 40-year relationship between Lilly and Val, the heroines of this delicious and delightful novel. I also discovered heaps of recipes that I can't wait to try out. Authors Andrea Israel and Nancy Garfinkel bring to life the joys as well as the disappointments inherent in attachments between women, and the power of food to sustain intimacy when those bonds are strained. I nodded in recognition as I hungrily devoured this satisfying and surprising story."—Giulia Melucci, author of I Loved, I Lost, I Made Spaghetti
"THE RECIPE CLUB is an extraordinary culinary fiction creation—a main dish consisting of a tender and poignant tale of love and friendship, served up with tasty sides of wonderful recipes. This is more than comfort food, it's haute literary cuisine."—Isaiah Sheffer, host of National Public Radio's Selected Shorts: A Celebration of the Short Story
"This moving story, about two close friends connecting and reconnecting through food and cooking, contains on e of my favorite lines written to date: 'So, how do you fix a broken heart? Maybe with ricotta cheese.'"—Tanya Steel, editor-in-chief of Epicurious.com and co-author of Real Food for Healthy Kids
"THE RECIPE CLUB takes readers on an epistolary journey that is as appetizing as it is thought-provoking. Family secrets, lifelong friendships, and various appetizers, entrees, and desserts are blended together into a rich tale that will warm hearts as much as it tantalizes the tastebuds."—Jennifer Cody Epstein, author of The Painter from Shanghai
"Andrea Israel and Nancy Garfinkel have written an absorbing novel that reflects the wisdom of MFK Fisher, namely, that there is no separating food and dining from family and friends. No wonder, then, that THE RECIPE CLUB struck me as a satisfying meal for both body and soul."—Sara Moulton Host of Public Television's Sara's Weeknight Meals and executive chef, Gourmet Magazine
ABOUT THE AUTHORS
Andrea Israel is a producer/writer for ABC's Focus Earth. She was a producer/writer on Anderson Cooper 360, Dateline, and Good Morning America (which garnered her an Emmy Award). Her story In Donald's Eyes was recently optioned for a film. Ms. Israel is the author of Taking Tea. Her writing has appeared in many publications.
Nancy Garfinkel is co-author of The Wine Lover's Guide to the Wine Country: The Best of Napa, Sonoma, and Mendocino (Chronicle Books, 2005). A creative strategist, design consultant, writer, and editor for magazine, corporate, and non-profit clients, she has won a host of graphic arts and editorial merit awards. She has written extensively about food and graphic arts.
Polhemus Press, 9780982349205, 363pp.
Publication Date: October 1, 2009
or
Not Currently Available for Direct Purchase