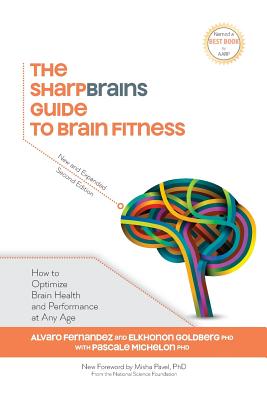 The Sharpbrains Guide to Brain Fitness: How to Optimize Brain Health and Performance at Any Age (Paperback)
How to Optimize Brain Health and Performance at Any Age
Sharpbrains Incorporated, 9780982362976, 284pp.
Publication Date: April 4, 2013
About the Author
Alvaro Fer-nan-dez, named a Young Global Leader by the World Economic Forum, is the CEO of Sharp-Brains, a lead-ing inde-pen-dent mar-ket research and think tank track-ing health and well-being appli-ca-tions of neu-ro-science. He has been quoted by The New York Times, The Wall Street Jour-nal, CNN, Reuters, and Asso-ci-ated Press, among oth-ers. Alvaro produces the annual SharpBrains Virtual Summit, the leading virtual conference gathering hundreds of brain scientists and experts worldwide. He started his career at McK-in-sey & Co, and led the launch and turn-around of sev-eral education-related start-ups. Alvaro has an MBA and MA in Edu-ca-tion from Stan-ford Uni-ver-sity, and a BA in Eco-nom-ics from Uni-ver-si-dad de Deusto. Elkhonon Goldberg, Ph.D., is an author, scientist, educator and clinician, internationally renowned for his clinical work, research, writing and teaching in neuropsychology and cognitive neuroscience. Dr. Goldberg is a Clinical Professor, Department of Neurology at New York University School of Medicine, and Diplomate of The American Board of Professional Psychology in Clinical Neuropsychology. A student and close associate of the great neuropsychologist Alexander Luria, Dr. Goldberg has continued to advance Luria's scientific and clinical tradition, and written popular science books such as The Executive Brain: Frontal Lobes and The Civilized Mind and The Wisdom Paradox: How Your Mind Can Grow Stronger As Your Brain Grows Older. Pascale Michelon, Ph.D. in Cognitive Psychology, is a scientist, educator and writer. Dr. Michelon started her career as a Research Scientist at Washington University in Saint Louis where she conducted behavioral and neuroimaging studies to better understand how the brain processes and memorizes visual information. She is now an Adjunct Faculty at Washington University.
Advertisement