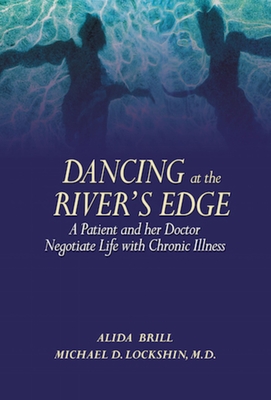 Dancing at the River's Edge: A Patient and Her Doctor Negotiate Life with Chronic Illness (Paperback)
A Patient and Her Doctor Negotiate Life with Chronic Illness
Schaffner Press, 9780982433270, 255pp.
Publication Date: March 24, 2010
Description
An invaluable resource for medical professionals, victims of chronic illnesses, and their loved ones, this dual memoir by a doctor and his longtime patient traces the growth of their unique friendship over a span of decades. By exploring the bond between caregiver and sufferer, this sensitive account evokes not only the constant day-to-day frustrations and emotional toll suffered by the chronically ill, but also an understanding of the mental struggles and conflicts that a conscientious doctor must face in deciding how best to treat a patient without compromising personal freedoms. In alternating chapters, the narrative explores the frustration, joy, despair, grief, and pain on both sides of the doctor-patient relationship.
About the Author
Alida Brill is a feminist social critic, the author of Nobody s Business: The Paradoxes of Privacy, and the editor of A Rising Public Voice: Women in Politics Worldwide. She is the coauthor of Dimensions of Tolerance: What Americans Believe About Civil Liberties. Michael D. Lockshin, MD, is one of the world's leading experts in the long-term care of chronically ill patients. He is the director of the Barbara Volcker Center for Women and Rheumatic Disease at the Hospital for Special Surgery and a professor of medicine, obstetrics, and gynecology at the Weill College of Cornell University. He is the author of Guarded Prognosis: A Doctor and His Patients Talk About Chronic Disease and How to Cope With It. They both live in New York City."
Praise For Dancing at the River's Edge: A Patient and Her Doctor Negotiate Life with Chronic Illness…
"Brill's writings and Lockshin's writings . . . are poetic, revealing, insightful, and at times shocking in their honest and frank discussion of aspects of chronic disease that are rarely brought out into the open."  New England Journal of Medicine
"
Dancing at the River's Edge
. . . is about the trials and tribulations of chronic disease . . . you ought to get a copy and read it. You won't be able to put it down once you pick it up."  Paul A. Volcker, former Federal Reserve chairman
"A deeply personal exploration on both sides of the medical scenethe patient who suffers and strives to retain her 'self,' and the physician who struggles to maintain a balance between knowing the truth while attempting to understand its implications."  Virginia Ladd, president and executive director, American Autoimmune Diseases Related Association
"An extraordinary meditation on illnessa poetic, powerful and groundbreaking work that illuminates the resilience and strength of the human spirit."  David Isay, executive director, Storycorps, and editor, Listening Is an Act of Love
"A must-read for anyone who has traveled to the 'other planet' that is chronic illness, or loves someone who is making this arduous journey . . . a life-affirming and deeply moving book."  Nancy Matsumoto, staff contributor, People; former contributor, Health, Los Angeles Times, New York Times, Newsweek, and Time; coauthor, The Parents' Guide to Eating Disorders
"A book unlike any other; this slim volume probes the intricacies of a magical relationship, that of a patient with her doctor. A heart-wrenching dialogue that carries profound and life-altering insights for us all."  Dr. David Sachar, head of gastroenterology, Mt. Sinai Hospital, and world's leading expert on Crohn's Disease
"Whether you are doctor or patient, you see a bit of yourself in [this book]. . . . It demonstrates how profound the bond between doctor and patient can behow much power it imparts."  Susan Golick, founder, S.L.E. Lupus Foundation
"Whether you are doctor or patient, you see a bit of yourself in [this book]. . . . It demonstrates how profound the bond between doctor and patient can behow much power it imparts."  Susan Golick, founder, S.L.E. Lupus Foundation
Advertisement