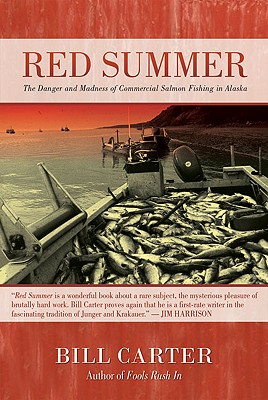 Red Summer (Paperback)
The Danger and Madness of Commercial Salmon Fishing in Alaska
Schaffner Press, Inc., 9780982433287, 240pp.
Publication Date: June 1, 2010
* Individual store prices may vary.
Description
Painting a visceral portrait of the life of commercial fishermen in the remote Eskimo village of Egekik, Alaska, this intense memoir depicts the author's four summers spent with a crew of seasonal salmon netters. Distinguishing itself from a typical adventure, this recollection relates the unforgiving supervision of the experienced female crew-chief, who along with her rugged shipmates lives by the credo: do the work or leave. From an encounter with an overly-inquisitive grizzly bear and being swamped by a mother-ship in open waters to the customary run-ins with colorful locals, this record is certain to appeal to adventurers, nature lovers, and armchair travelers alike. In the tradition of Jon Krakauer, Peter Matthiessen, and Sebastien Junger, this is an honest and vivid story of what it means to leave so-called civilization behind for a life full of danger, excitement, untold beauty, and physically grueling work.
About the Author
Bill Carter is a former commercial fisherman and an award-winning documentary filmmaker and photographer. He has written for "Men s Journal," "Outside," "Rolling Stone," and "Spin"""andis the author of" Fools Rush In."" "His documentary film, "Miss Sarajevo," was awarded the International Monitor Award, the Golden Hugo Award, and the Maverick Director Award. He lives in Bisbee, Arizona."