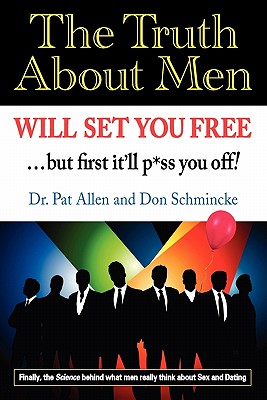 The Truth About Men Will Set You Free
The New Science of Love and Dating
Paperback

* Individual store prices may vary.
Description
This is a book for women who are looking to improve their dating experience. More effective dating happens by accepting, versus ignoring, our evolutionary design. Understanding our brain wiring and body reaction differences with men explains a lot. Ever wonder why you get so attached to a man, yet he can remain so casual about your relationship? Or why break-ups are so very hard to get over? This breakthrough book helps you understand exactly how a man's mind (and body) works when it comes to intimacy, and the reasons why dealing with a man can sometimes be so exasperating or emotionally painful. Knowing them helps you realize he may not be doing it you deliberately, and what genetic mechanisms give you more power than you've ever had before in building a strong, loving intimate relationship. For example, scientific research finds that evolution designed you to become biochemically addicted -- to his smell. Biology also drives men sexually, but their main "addiction" is to seek multiple mating partners. Evolution also wisely provides that if a certain hormone gets produced in his brain, he'll become just as bonded as you are. There are rules for a successful relationship. Women feel that guys evade them. Guys feel that women invade them. To have a satisfying love life, or a fulfilling dating experience, know how to play by the rules, and play to win Dr. Pat Allen, Ph.D, MFT, has helped women, men and couples do this for over 30 years; and her workshops have helped tens of thousands of relationships to succeed. After a lifetime studying the SCIENCE of relationships, the energies that drive men and women, and how those energies can be balanced in harmony, you now have access to her latest discoveries. This research refutes many of today's pop theories about relationships, and dismantles basic assumptions of the feminist movement. It's not the first time Dr. Pat Allen offered such contrarian advice. In her bestseller, "Getting to 'I Do'," she described how women can achieve satisfying marital relationships. In this new book, she describes the genetics of what MEN do in their quest for sex (and love), and how women consciously and unconsciously react to these actions. It's time for women to have their consciousness raised about male sexual behaviors, based on scientific research into human mating practices. When you know the evolutionary sources of such behavior, you are empowered to claim the high ground, adopt effective counter-behaviors, and rise above any victim mentality. Knowing the truth about men and their sexual responses will free you to implement new, scientifically proven mating strategies that will increase your chances for developing a loving relationship. Creating solid and lasting relationships means accepting each other's differences instead of denying them. After you've learned the Truth About Men, you'll finally have the information you need to venture forth, make informed choices -- and embrace true Feminine Empowerment.
Want Institute, 9780982480809, 176pp.
Publication Date: June 7, 2009
About the Author
Dr. Pat Allen is a licensed MFT and Certified Cognitive Behavioral Therapist and Transactional Analyst with a practice spanning over 30 years, the founder and a director of the WANT Institute for Effective Communication Strategies, a nationally acclaimed communication expert, popular love, sex and relationship speaker and radio guest, regular on FOX News and CNN, best-selling author of "Getting To 'I Do'" and "Staying Married...and Loving It," and Reality Show Guest Therapist who helped Tiffany find her perfect mate on VH1's ratings buster "I Love New York 2" and frequently assists Patti Stanger, "The Millionaire Matchmaker." She has invested her life in training women and men how to communicate with authenticity, in a loving manner, how to confront each other in a respectful, cherishing way, and how to achieve fundamental self-esteem and restore good physical and mental health through her unique technique of Androgynous Semantic Realignment, which allows individuals to successfully change negative behaviors and overcome addictions by changing their language patterns. Her clients range from hurting individuals and couples to professional communication experts and CEOS, corporations and associations including IBM, Colgate Palmolive, Cedar-Sinai Hospital, UCLA Medical Center, Hoag Hospital, Vistage, PSI Seminars, the Bill Wilson House and the Betty Ford Clinic. Her tenets and teachings have inspired relationship experts John Gray and Marianne Williamson, comedians Yakov Smirnoff and Pauley Shore, and formed the basis for the feature film "Duty Dating." Oprah Winfrey has featured Pat four times and praised her as the "Therapist, Comic Mother Superior" when it comes to personal relationships, and Rev. Michael Beckwith says Pat has the talent to go to the core of an individual and assist them out of the mire of their past, and that "the world is a lot better off because of Pat Allen."