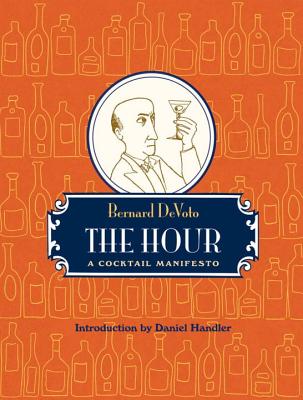 The Hour (Hardcover)
A Cocktail Manifesto
Tin House Books, 9780982504802, 136pp.
Publication Date: May 25, 2010
* Individual store prices may vary.
Description
One part celebration, one part history, two parts manifesto, Bernard DeVoto's The Hour is a comic and unequivocal treatise on how and why we drink--properly. The Pulitzer Prize and National Book Award-winning author turns his shrewd wit on the spirits and attitudes that cause his stomach to turn and his eyes to roll (Warning: this book is NOT for rum drinkers). DeVoto instructs his readers on how to drink like gentlemen and sheds new light on the simple joys of the cocktail hour. Daniel Handler's introduction to this reprint of the 1950s classic provides a humorous framework for the modern reader.
Praise For The Hour: A Cocktail Manifesto…
"[The Hour] has long been regarded as a classic . . . Strait is the gate and narrow is the way to Mr. DeVoto's magic cocktail kingdom."The New York Times

"DeVoto insists in delightfully snooty language that there are only two cocktails, the slug of whisky and the perfectly-measured martini." The New Yorker Book Bench blog

"In terms of the cult of happy hour, this may be the best tome ever written, and if you like to shake and stir at all, it is an essential volume to keep on your bar cart."The Daily Beast

"[The Hour] is a celebration of good plain bourbon and rye, and of the martini, America's gifts to the world."The Boston Globe

"Witty and chattily informative. . . "The Baltimore Sun

"Bernard DeVoto's The Hour, first published in 1948, is a paean to the restorative powers of a quiet drink at the end of the working day. . . it is almost a cocktail in itself, being at once soothing and refreshing."
Michael Dirda, The Washington Post

". . .immensely quotable, curmudgeonly but smartthink Dorothy Parker's stern eye mixed with the sass of Mark Twain, and a jigger of Christopher Hitchens thrown in for good, boozy measure."Rachel Brown, The Atlantic

"An impassioned, funny, and timeless celebration of the best things that can be found in a bottle." The New Yorker's Book Bench

"DeVoto was never less than eloquent, but he toed pure poetry with his description of 6 pm."
The Austin Chronicle

Bernard DeVoto's book is delightful for the language alone."
Kansas City Star

"DeVoto's wit has aged like a slug of the Finest bonded bourbon."
Molossus.com

"With spirit and wit, the book educates us in drinking etiquette and reminds us of the glories of gin, whiskey and the iconic martini. The Hour teaches us how to drink like ladies and gentlemen. Read, learn and savor, as you should!" Zink magazine

"The Hour dwells on cocktail principles and DeVoto is a cocktail purist."BlogCritics.org

"Filled with sly, snide with as dry as a classic martini."AuthorMagazine.org

"A quirky classic. . . a thoroughly amusing polemic about that magical hour when day turns into night, work ends, and the best meal of the day is on the horizon."Tablehopper.com

"The Hour is not simply a piece of humorous cultural patriotism either. It is a manual of witchcraft, a book of spells and observances." Wallace Stegner, author of Angle of Repose

"If in the well and truly made martini DeVoto finds "water of life" and the blessing to the spirit, so also DeVoto's The Hour brings to its readers the breath of life and a vision of themselves made generous, indomitable and wise." Lewis Lapham

In an age when all that was old seems to be new again, Bernard DeVoto's The Hour couldn't have made a more timely reappearance. This book reminds me of one of the joys of being an adultcocktail hour!" Graydon Carter

"Wittya great weekend host gift."Liquor.com

"Pride of place goes to a reissue of The Hour: A Cocktail Manifesto, righteously written by the critic, Twain scholar, and eminent historian Bernard DeVoto. First published in 1948, The hour is meant to be savored in one wing-chair sitting."Slate.com