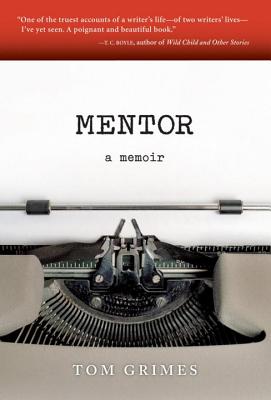 Mentor (Hardcover)
A Memoir
Tin House Books, 9780982504888, 242pp.
Publication Date: August 1, 2010
Other Editions of This Title:
Paperback (7/29/2010)
MP3 CD (7/26/2016)
* Individual store prices may vary.
Description
A chance encounter between two writers, one young, one older, develops into a wonderful friendship neither expected. Frank Conroy, author of the classic memoir Stop-Time, meets Tom Grimes, an aspiring writer and an applicant to the Iowa Writers' Workshop, which Conroy directs. First as teacher and student--and gradually as friends--their lives become entwined, and through both successes and disappointments, their bond deepens. Exquisitely written, Mentor is an honest and heartbreaking exploration of the writing life and the role of a very important teacher.
About the Author
Tom Grimes is the author of five novels, including "Season s End," "City of God," and "Redemption Song," and the editor of "The Workshop: Seven Decades of Fiction from the Iowa Writers Workshop." His work has been selected as New York Times Notable Books of the Year, and he has twice been a finalist for the PEN/Nelson Algren Award. He directs the MFA Program in Creative Writing at Texas State University.

"
Praise For Mentor: A Memoir…
"From now on, anyone who dreams of becoming a novelist will need to read Tom Grime's brutally honest and wonderful Mentor."Michael Dirda, The Washington Post

"Employing a constant tension of ambivalenceshame and tenderness, pride and humilityGrimes proves in this stunningly forthright, forlorn memoir that his great subject is Conroy himself."Publishers Weekly, starred review

Grimes delivers an eloquent portrait of the writer's life. . . Without wasting a word, Grimes presents a thoroughly readable view of how stories and writers, at least of a certain kind, are made."Kirkus Reviews, starred review

"Grimes' staggering self-critique, keen tribute to Conroy as writer and mentor, and hard-won insights into the true demands of writing and the deep resonance of literature are arresting and cautionary, inspiring and affecting."
Booklist, starred review

"Refreshingly genuine and engaging. A-"Entertainment Weekly

"With beautiful simplicity he describes the surreal, physical experience of writing a last sentence and knowing your book is done."The San Francisco Chronicle

"Like all good memoirs, Mentor reveals more than its ostensible subject. The relationship between the two men offers a vivid illustration of the personal struggle at the core of a creative life."The Oregonian

". . .couldn't put Mentor down."The New York Times

"An eloquently confessional memoir."The A. V. Club

"What's important about Mentor is that it takes the freighted terms of a place like Iowa and a man like Conroy and examines their character not with the grand stakes that make for a debate but the intimate ones that forge an artist."Time Out Chicago

Mentor is inside baseball for rabid fans of the writing life."Texas Observer

Mentor is the story of acceptance and, as with any writer's life, a tale of brutal rejection. And it is something I never expected from a writer's memoir of mentorship: It is one of the finest books I have ever read. Period."
Texas Books in Review

"Mentor is a must read for any aspiring novelists to understand the persistence and strength of character needed to survive as a career novelist. . . It's delightful, heartbreaking, and ruthlessly honest."The Longest Chapter.com

"One of the truest accounts of a writer's life--of two writers' lives--I've yet seen. A poignant and beautiful book."T.C. Boyle

What Tom has produced has surpassed all my expectations: it is intensely personal, moving, powerful and insightful. Mentor is a must read for people who write and for every reader who has wondered about the mysterious alchemy that produces a writer." Abraham Verghese, author of Cutting for Stone

"It's astonishing how much insight, passion, pain, joy, self-doubt, and sheer love Tom Grimes has managed to pack into this tightly made memoir of his relationship with the writer Frank Conroy. Not only does Mentor offer an honest and compelling account of the struggles of a writer at the onset of his career, but this immaculately composed memoir also draws an enduring and eerily lifelike portrait of Frank Conroy. For me, it was as if Conroy had somehow risen from the dead before my eyes, with all his impish zest and stern earnestness and voluble wisdom. Mentor is a beautiful, beautiful booka monument both to Frank Conroy and to the writer's terrifying quest for artistic excellence." Tim O'Brien, author of The Things They Carried

"Mentor is a touching memoir about one of those rare encounters in life, where the deep connection between two human beings transcends time and death. It is about artists and their arts, fathers and sons, families and friends, and above all, love that allows each generation of artists to dream and create on the shoulders of their mentors."Yiyun Li, author of The Vagrants

"Tom Grimes has written a most affecting book. Part memoir and part homage to his mentor, Frank Conroy, it is also an extremely candid meditation on the writing life, both its joys and its pains. Anyone who has ever been on either side of the mentor-student relationship will catch glimpses of himself in this remarkable memoir." Scott Anderson, author of Triage

"Tom Grimes has written a beautiful book, as muscular, honest and lasting as the gift he received. Mentor, A Memoir belongs on the shelf of every writer, every teacher, every reader."Jayne Anne Phillips, author of Lark & Termite

"Mentor is a tender, tough, and appropriately bewildered look into the heart of the Iowa Writers' Workshopindeed, into what it means to be a writer of ambition altogether. It is also a magnificent double portrait of two fiction writers, rendered in fine, piercing, fond, and ruthless proseand, above all, a love letter to a teacher."Elizabeth McCracken, author of An Exact Replica of a Figment of My Imagination

Mentor is a fine and unique achievement. It's moving as the record of a first rate writer's early career. But its uniqueness lies in its treatment of something quite ineffable, the way in which a major artist can nourish the talents and maintain the confidence of a younger one. . . . Frank Conroy was a wild, wildly talented, phenomenal artist. Tom Grimes has served his memory superbly."Robert Stone, author of Dog Soldiers

"Ultimately, Mentor: A Memoir can best be summarized in the following: I couldn't put it down . . . Mentor captivated me."BlogCritics.org

"It's such a mesmerizing book I read it in one sitting." John Matthew Fox, BookFox

"Inspirational for aspiring writers and an insight for readers, Grimes' book is a true writer's memoir." Examiner.com

"[Grime's] humanity and heart form a moving testament to his story. It is a memoir of friendship, faith, time, writing and reaching out to others."MostlyFiction.com


"Mentor describes a writer at full strength. . ."Las Vegas City Life

"This book is about striding up to the brink of success, only to have it disembowel you."Register-Guard

"The dynamic between [Grimes and Conroy] is fascinating, but for our money, the best bits are about Grimes' own journey to publication and beyond." McSweeney's

"Mentor is undoubtedly a book that appeals to writers."Bomblog

"Without being whiny or petulant, [Grimes] explores the all-too-human desire to want, and the all-too-familiar agony that comes when, despite our very best efforts, we can't get our dreams to cohere into reality." Fort Worth Star-Telegram

"An honest memoir. . . Grimes has perhaps written a memoir that exceeds its own bounds, delivering more than he set out to write."The Austin American-Statesman
or
Not Currently Available for Direct Purchase