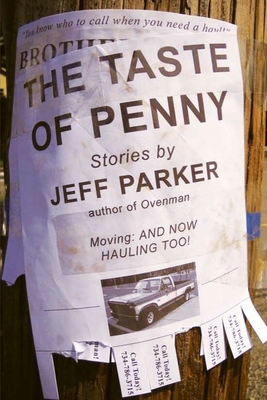 The Taste of Penny
Paperback

* Individual store prices may vary.
Other Editions of This Title:
Paperback (11/1/2009)
Description

"Jeff Parker is a writer who understands that voice is the doorway to all true beauty in fiction. Tight, wry, dark, and deeply funny - he is a master of the hyper-compressed sentence that explodes with more meaning and nuance than should be possible." - George Saunders, author of Pastoralia "Jeff Parker's stories are mysterious, heartfelt, and utterly captivating. In The Taste of Penney he casually flexes a Voltron-like combo of writerly gifts: Ron Carlson's mastery of voice, Elmore Leonard's uncanny ear for dialogue, and Raymond Carver's spare wit. This collection contains some of the most absorbing and brightly imaginative stories I've come across in some time." - Davy Rothbart, FOUND Magazine "Whether moose legs or tongue tips or sperm counts or pennies lodged into a throat, Parker disassembles us so compellingly that we no longer wish to be whole. His inventiveness revises the world as we know it with audacious wit." - Mary Caponegro, author of All Fall Down and The Star Caf "Here we have characters in Russian messing up in hilarious ways; taking care of a cheating girlfriend's pet bird; failing miserably at roadside tests in front of cops; spraying indoor centipedes with cheap cologne. Has my life ever been this bad? Nope. Have I ever felt like such a foreigner in an already-strange land? Not even close. Do I wish that Id' written these stories? Absolutely. I'm jealous. The Taste of Penny's the best ride at a spectacular carnival. " - George Singleton, author of The Half-Mammals of Dixie and These People Are Us. "These stories are haunting and constantly surprising." - Publishers Weekly (starred review) The Taste of Penny agitates the sense in thirteen stories modern and mischievous. This collection captures love, relationships, and finding one's way in the twenty-first century. Jeff Parker is the author of the novel Ovenman (Tin House). His short fiction and nonfiction have appeared in American Short Fiction, The Best American Nonrequired Reading, Indiana Review, Ploughshares, Tin House, The Walrus, and others. He teaches creative writing at the University of Toronto.

Dzanc Books, 9780982520444, 172pp.
Publication Date: June 1, 2010
About the Author
Jeff Parker has published a novel, Ovenman, with Tin House, and co-edited America: Russian Writers View the United States. He is the current director of the Creative Writing program at the University of Toronto and the COO and Russian Program Director for Summer Literary Seminars.