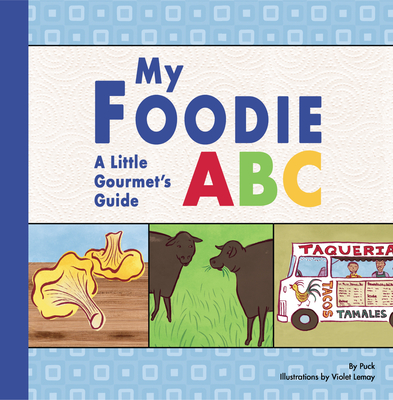 My Foodie ABC: A Little Gourmet's Guide (Board Books)
A Little Gourmet's Guide
Duo Press LLC, 9780982529522, 22pp.
Publication Date: July 9, 2010
Description
A delightful educational tool that stresses the importance of having a healthy relationship with food, this board book teaches the letters of the alphabet to tots and other gastronomes in training. Stylish and dazzling illustrations that highlight terms such as Kobe beef, pomegranate, ice cream, and farmer's market pair with fun foodie facts to make learning the alphabet easy and enriching. A complete introduction to the alphabet and gastronomical terms, this unique book also includes a pronunciation guide, making it an ideal companion for food aficionados.
About the Author
Puck is the author of the Cool Counting Books series, which includes "123 Boston," "123 California," "123 Chicago," "123 New York," "123 Philadelphia," "123 San Francisco," "123 Texas," and "123 USA." He has worked as a writer, editor, and translator for national publications and publishing houses. He lives in Baltimore, Maryland. Violet Lemay is an illustrator whose work has appeared in "American Baby," "Better Homes and Gardens"," Elle," "Family Circle," "Modern Bride," "the New York Times," "Parent and Child," "Seventeen," and "the Wall Street Journal." She lives in Savannah, Georgia.
Praise For My Foodie ABC: A Little Gourmet's Guide…
"With cheery pastel-hued artwork, phonetic spellings (when needed), and a striking variety of foodstuffs, it should easily whet readers' appetites."  Publishers Weekly
"My Foodie ABC is an adorable book that not only showcases a wide variety of ethnic foods from all over the word, it also places value on local farmer's markets and fresh, healthy food. Violet Lemay's fun an playful illustrations will put a smile on your face instantly, her whimsical drawings bring this delicious book to life."   Kim Rosen, illustrator, Boston Globe, New Yorker, Wall Street Journal, TIME, and American Express
"A first class effort to educate young taste buds while promoting literacy. My Foodie ABC is fun for both preschoolers and adults."  Midwest Book Review
"I love this book. This is a perfect book for any food lover in training. It teaches children the alphabet throughout all this culinary items and treats . . . I hope you have a chance to pick this one up and share it with your children." 
OC Family
"Recommended for kids 3-6. As an adult I adore it. It's educational, hip and unique!"  Mogul Baby
"This (book) has exposed us to new foods and enrich our diet. My daughter was not the only one who learned from it, I did too! . . . so for me is a must have!" 
Kids Go Bilingual
"Very well written and very beautifully illustrated. Duo Press publications are food for your little one's brain."  Mom to Bed by 8
"My daughter and I had a fun time exploring new foods with this book, and we have some new items we want to try."  5 Minutes for books
Advertisement