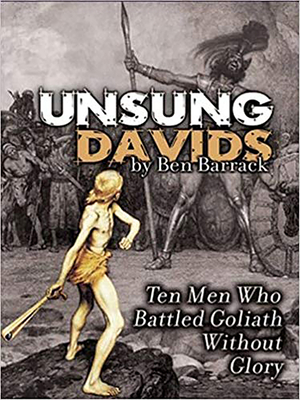 Unsung Davids: Ten Men Who Battled Goliath Without Glory (Hardcover)
Ten Men Who Battled Goliath Without Glory
Top Executive Media, 9780982567999, 444pp.
Publication Date: September 4, 2012
Description
The story of David vs. Goliath is perhaps the best personification of the fight between good and evil. Righteousness was overmatched and evil was overconfident. Each of the ten men featured in this book knows what it's like to be engaged in such a battle. They all share a common bond consisting of common traits that even further reinforce that bond. Amazingly, so do their adversaries. These ten men each perceived things like injustice, persecution, corruption, deceit, and dishonor as personal affronts they simply could not tolerate. Each chose to stand up to evil and didn't back down, even after seeing its face. Armed with little more than the truth, these men fought valiantly and relentlessly, entities and institutions that would do us all harm. Yet, they remain unsung as of this writing. Peter Paul vs. HILLARY CLINTON: When one man who the Clintons attempted to double cross, didn't go quietly, the woman who would run for president got far more than she bargained for. Richard Landes vs. PALLYWOOD: When one man was exposed to the underbelly of manufactured news, he blew the lid off of a strategem of war used against western civilization.
Advertisement