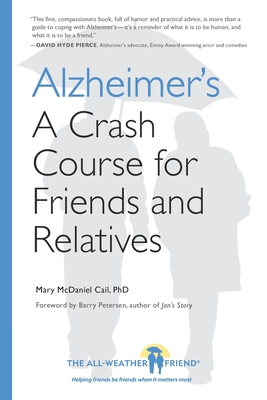 Alzheimer's (Paperback)
A Crash Course for Friends and Relatives (All-Weather Friend)
Truewind, 9780982575123, 199pp.
Publication Date: October 29, 2013
* Individual store prices may vary.
Description
In this moving and accessible book, author Mary McDaniel Cail offers step-by-step instructions for comforting friends with Alzheimer's disease, and for supporting family members who provide ongoing care. Compelling, true stories illustrate the challenges of the disease: from Velma, an Arkansas sharecropper's daughter, to Willa, a physician once nominated for Surgeon General, and many more. Cail uses insightful anecdotes and "do and don't" guides to demystify how Alzheimer's disease advances and show what friends can do to help. Filled with practical and empowering advice, Alzheimer's: A Crash Course for Friends and Relatives is essential reading for friends and loved ones, as well as concerned professionals and community members.