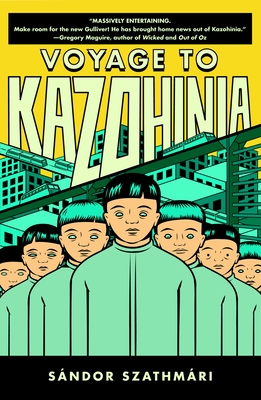 Voyage to Kazohinia (Paperback)
New Europe Books, 9780982578124, 352pp.
Publication Date: July 3, 2012
* Individual store prices may vary.
Description
This classic dystopian satire has been compared to the likes of Brave New World, Gulliver's Travels and The Wizard of Oz. Voyage to Kazohinia is a tour de force of twentieth-century literature--and it is here published in English for the first time outside of Hungary. S ndor Szathm ri's novel chronicles the travels of a modern Gulliver on the eve of World War II. A shipwrecked English ship's surgeon finds himself on an unknown island whose inhabitants, the Hins, live a technologically advanced existence without emotions, desires, arts, money, or politics. Soon unhappy amid this bleak perfection, Gulliver asks to be admitted to the closed settlement of the Behins, beings with souls and atavistic human traits. He has seen nothing yet. A massively entertaining mix of satire and science fiction, Voyage to Kazohinia has seen half a dozen editions in Hungary in decades since its original publication and remains the country's most popular cult classic.
About the Author
Sándor Szathmári (1897-1974) was among the most extraordinary and elusive figures in twentieth-century Hungarian literature. The author of two published novels and several story collections in his native tongue, he is best known for Voyage to Kazohina--which, titled Kazohinia on most editions in Hungary, has been treasured by generations of readers. Szathmári spent much of his career as a mechanical engineer; this, together with his limited oeuvre, the biting satire of his magnum opus, and his political persuasions--which ranged from an early, ambivalent affiliation with communism to anticommunism as Hungary became a communist dictatorship--kept him ever on the margins of the officially sanctioned literary establishment. A central figure in Hungary's Esperanto movement for decades, Szathmári published his writings--including, most famously, Voyage to Kazohinia--in his own Esperanto-language editions, ensuring him a measure of international recognition and literary freedom during the communist era.
Praise For Voyage to Kazohinia…
"Massively entertaining! . . . Make room for the new Gulliver. He has brought home news out of Kazohinia." -- Gregory Maguire, author of Wicked and Out of Oz

"Written in 1935, Voyage to Kazohinia is a strikingly postmodern and open-ended dystopia that rightfully belongs among the twentieth-century classics of the genre. And it is unique in being less a strident political cautionary tale than it is a brilliantly mordant reflection on government, reason, and language."
—Carter Hanson, Associate Professor of English, Valparaiso University 

"[A] dystopian cult classic. . . . Gulliver washes up on the island of Kazohinia, which is populated by bizarre inhabitants . . . whose sense of morality and society force [him] to reconsider his own understanding of life, love, and death." 
—Publishers Weekly
 
"Highly entertaining. . . . Readers familiar with the classic Swift satire will find much to admire here, but those unfamiliar with Gulliver's Travels should still have a good time." 
—Booklist
 
"A satire on our world of power politics... clever and inventive." -- Allan Massie, The Wall Street Journal

"However you interpret it, the novel is most certainly a literary masterpiece." -- William Auld

"Like Milton . . . Szathmári is fascinated by humankind's precarious oscillation between good and evil; and, like the novelist Aldous Huxley in Brave New World, he is deeply suspicious of notions of human perfectibility this side of heaven itself." --Humphrey Tonkin, President Emeritus of the University of Hartford


"As if Bradbury and Orwell had been mixed with fresh wild berries, Voyage to Kazohinia was so ahead of its time that its time still hasn't caught up. Perhaps now it will." --Miklos Vamos, author of The Book of Fathers

"Voyage to Kazohinia belongs on every bookshelf alongside the works of Orwell, Huxley, and Zamyatin." -- Gyorgy Dragoman, author of The White King.

"Sándor Szathmári writes in the best tradition of Jonathan Swift in using the framework of an adventure story for a fascinating in-depth exploration of human relationships. . . . And he remarkably brings off a crystal-clear style that never gets boring in the least."
--Reinhard Fössmeier, International Academy of the Sciences San Marino

"A powerful stimulus to thought. What distinguishes Voyage to Kazohinia from similar ventures and yet links it to Huxley's Brave New World is its description of both utopia and dystopia."
--Michel Duc Goninaz, author of La Plena Ilustrita Vortaro de Esperanto (Complete Illustrated Esperanto Dictionary)