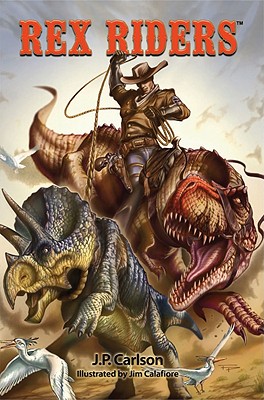 Rex Riders (Hardcover)
Monstrosities Books, 9780982579633, 431pp.
Publication Date: June 21, 2011
* Individual store prices may vary.
Description
Benjamin Franklin Award Finalist for Cover Design (Children's/Young Adult)When 14-year-old Zeke Calhoun goes to live at his Uncle Jesse's broken-down ranch in Texas, he discovers that he has a natural way with horses and loves to ride. But this is nothing compared to what he finds in a riverbed near the ranch: a mysterious stranger, riddled with bullets, lying face down in the dirt, and a juvenile T-Rex keeping a pack of hungry wolves at bay. Where did the stranger come from? Who shot him and why? While Zeke saves the stranger and sets out to answer these questions, he finds something much more interesting a bridle in the dinosaur's mouth. From that moment on he knows he is destined to ride the T-Rex. What he does not know, however, is that his actions will set off a chain of events plunging him into an incredible adventure, one that will lead to the discovery of a deadly alliance between Earth and a prehistoric world that could threaten the very fabric of both.
About the Author
J. P. Carlson performed stand-up and sketch comedy for eight years and has written satire, sketch comedy, and screenplays for animated television series. He lives in Merrick, New York. Jim Calafiore has worked in the comic book industry as an illustrator and writer for more than 20 years, working for all the major publishers, including DC Comics and Marvel. Among the comic books he has illustrated are Batman, Iron Man, Aquaman, and Exiles. He lives in Somerset, New Jersey.
Praise For Rex Riders…
This weird Western' inserts the prehistoric world of dinosaurs into the traditional cowboy setting of cattle roundups, rodeos and stampedes, square dances and six-shooters. The extreme anachronism is an effective premise for action and adventure in the manner of King Kong or Jurassic Park."  Voice of Youth Advocates
Zeke's adventure . . . is what you might get if you threw The Valley of Gwangi, The Lost World, and One Million Years B.C. in a blender with just a dash of Cowboys & Aliens. Young sci-fi and dinosaur fans will almost certainly love it."  Dinosaur Tracking blog on smithsonian.com
Rex Riders is a deft blend of action, humor, and wall-to-wall adventure in a truly original setting. Reading it was nothing short of pure joy, easily recapturing the fun I'd had when first discovering the John Carter of Mars books."  New York Journal of Books
This is so blindingly awesome that it almost needs no explanation. But I'll tell you what it isa new kids' book called Rex Riders, about the American frontier. With dinosaurs!"  io9.com
or
Not Currently Available for Direct Purchase