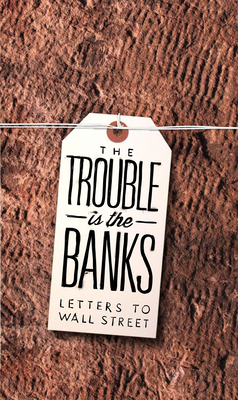 The Trouble Is the Banks (Paperback)
Letters to Wall Street
Farrar, Straus and Giroux, 9780982597774, 232pp.
Publication Date: November 13, 2012
* Individual store prices may vary.
Description
As seen in the New York Times Week in Review, Harper's Magazine, and discussed on NPR's Marketplace.
The Trouble is the Banks collects 150 letters that Americans (and one Canadian) wrote directly to executives and directors of five big banks in fall 2011, at a time when protests were emerging in Occupy Wall Street camps across the United States. These writers speak as citizens to citizens, making an unprecedented portrait of ordinary Americans' experiences of the financial crisis since 2007. Here is the speech of the People, not any authority above them.
From the letters:
"I read today . . . that the average bank executive makes 225 times what the average teacher makes. I ask you, Barbara: How many of me do you really think you are worth to the world?"
"Just wanted to give you a pat on the back for collecting over $4,000 from a friend of mine on a Chase credit card with a $500 limit. It was a great example of the innovation in your industry!"
"We're not disaffected hippies. We're the disaffected middle class. And we're huge."
About the Author
Mark Greif is a cofounder and coeditor of n+1 and teaches at the New School.

Dayna Tortorici is an associate editor of n+1.

Nick Werle studies financial economics and white-collar crime in Brooklyn.
Praise For The Trouble Is the Banks: Letters to Wall Street…
"Insight into the way different Americans experienced the financial crisis and recession since 2007." —The New York Times
"It's a fantastic book, and well worth reading, mostly because it shows the potential power of Occupy's new approach . . . Most upper-level bank executives have learned, by now, to tune out yelling and sign-waving protesters outside their windows . . . But a polite, eloquent letter personally addressed to them and sent to their office? That's much harder to ignore. It's not impossible to imagine a copy of this book slipping past an administrative assistant onto a CEO's desk, being leafed through during a slow night at the office, and sparking a few minutes' worth of serious self-reflection." —Daily Intel, New York Magazine
"A year ago this week, the original Occupy Wall Street camp in Zuccotti Park was evicted. The camps served as a focal point for a vibrant protest movement that shook up the country, but they galvanized the anger and fear of working people around the country, struggling to make it through the Great Recession. The mainstream press often did its best to portray the movement as simply a bunch of unwashed kids without a message, without demands. Yet if one ever doubted that the movement's message got through, the collection of letters in The Trouble is the Banks, from Occupy the Boardroom and n+1 serves as proof." —Sarah Jaffe, Firedoglake.com
or
Not Currently Available for Direct Purchase