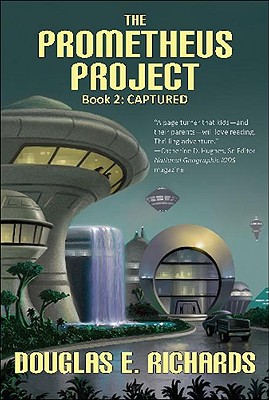 Captured (Paperback)
Paragon Press, 9780982618424, 225pp.
Publication Date: May 7, 2010
Description
Ryan and Regan Resnick are the youngest members of a top- secret team exploring the greatest discovery ever made: a vast alien city buried deep underground - as potentially deadly as it is astonishingWhen the city is captured by highly trained soldiers led by a ruthless alien, the adult members of the team are taken hostage. Now, Ryan and Regan are the team's only hope of survival.With the future of the world at stake, the Resnick Kids must do the impossible: outwit the brilliant alien, free the prisoners, and thwart an unstoppable invasion. But not everything is as it seems. And time is quickly running out. . . Contains a never-before-seen bonus chapter that is new to this edition.
About the Author
Douglas E. Richards has been widely praised for his ability to weave action, suspense, and science into riveting novels that brilliantly straddle the thriller and science fiction genres. He is the New York Times and USA Today bestselling author of WIRED, its sequel, AMPED, THE CURE, and six critically acclaimed middle-grade adventures enjoyed by kids and adults alike. A former biotech executive, Richards earned a BS in microbiology from the Ohio State University, a master's degree in genetic engineering from the University of Wisconsin (where he engineered mutant viruses now named after him), and an MBA from the University of Chicago. In recognition of his work, Richards was selected to be a "special guest" at San Diego Comic-Con International, along with such icons as Stan Lee and Ray Bradbury. He has written numerous feature articles for the award-winning magazine, National Geographic KIDS -- some having appeared in a dozen languages in as many as sixteen countries -- as well as essays for the BBC, The Australian Broadcasting Corporation, Earth & Sky, Today's Parent, and many others. The author currently lives in San Diego, California, with his wife, two children, and two dogs. You can friend Richards on Facebook at Douglas E. Richards Author, and write to him at doug@san.rr.com
Advertisement