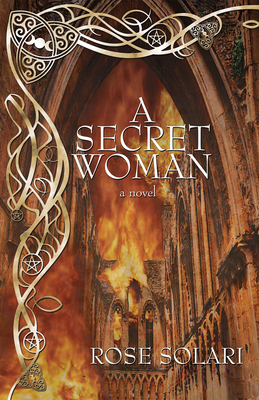 A Secret Woman
A Novel
Paperback

* Individual store prices may vary.
Description
Louise Terry is the quintessential, modern American woman; a successful and independent artist, sexually liberated and head strong, she's determined to carve out a life for herself where her painting comes first and where she can avoid messy romantic entanglements. But when her estranged mother, Margaret, dies, leaving a box of documents, photos, and journals, Louise discovers in its contents a new and very different woman from the one who raised her. This Margaret was admired by Catholic priests and Wiccan priestesses alike for her spiritual gifts and was working, at the time of her death, on assembling her visions of a 12th-century cross-dressing woman mystic who not only managed to infiltrate the male bastion of Glastonbury Abbey, but who instigated the tragic fire that burned it to the ground in 1184. Determined to pursue the fragments her mother left behind, Louise travels to England where she meets a cast of characters whom she must depend on to find her way. Blurring the boundaries between past and present, between the body and the spirit, between female and male, this page-turning mystery is a sexy romp through time and space, a profound meditation on the mother-daughter connection, and an enlightening exploration of what it means to make love, to make art, and to make a life worth living.
Praise For A Secret Woman: A Novel…
"The Orphic, mythic poems here may wear masks, but they reveal the voices of self-knowledge and self-revelation. Rose Solari is a poet of accomplished emotion, in poems thoroughly felt and wholly thought through, whether she is speaking in the tongues of gods or for those she loves. In whatever terms, nothing can disguise the tenderness at the heart of her story." —Stanley Plumly, former editor, Ohio Review and Iowa Review on Orpheus in the Park
"Rose Solari's brilliant and moving poems spring from a highly original fusion of technique, wit, spirituality, and rare passion. They show a poet working at the height of her powers." —Andrew Harvey, founder and director, Institute of Sacred Activism on Orpheus in the Park
"These poems won me over completely, because they don't use classical mythology as a source of erudite, elitist and off–putting allusion, but instead Solari digs deep, really deep, into the myths themselves to find in them the models, reflections, and illuminations for our own lives." —David Budbill, author, Happy Life on Orpheus in the Park
"The 'first infatuation,' Rose Solari reminds us, is with 'speed.' Speed here is not the result of time over distance, but is the velocity of the heart as it takes us to our difficult and inevitable destinations. Solari is a poet of passion who writes with care and precision." —Michael Collier, director, Bread Loaf Writers' Conference on Difficult Weather
"The poignant tone often found in these pages is sometimes born of a roughness, of images wrested from some of life's dirtier windshields. Solari's willingness to risk such detail reminds me of the muted whispers of trumpeter Miles Davis, or the singing of the mature Billie Holiday. Like them, Solari has a deep understanding of the sound of language." —Reuben Jackson, poet and curator, the Smithsonian's Duke Ellington Collection on Difficult Weather
"I admire Rose Solari's poems for their steadiness in the presence of emotional challenge. She writes about the real things that happen to us, transforming them, by means of secure craft and loving attention to detail, into works of art that happen to us in more durable ways." —Henry Taylor, Pulitzer Prize–winning author, The Flying Change, on Orpheus in the Park
"A poetry of neighborhoods more interesting than safe, a world determined by coincidence, longing, and the repeatable magic of the quotidian. Her language is by turns raw and luminous, her perceptions uncommonly acute, and her vision at once incisive and compassionate." —Carolyn Forche, Los Angeles Times Book Award–winning author, The Angel of History, on Difficult Weather
"This is a very promising fiction debut by a talented writer." —Robert Olen Butler, Pulitzer Prize-winning author of A Good Scent from a Strange Mountain
"An original story that holds the reader's rapt attention from beginning to end." —Midwest Book Review
"Reading
A Secret Woman
was pure heaven." —Night Owl Reviews
Santa Fe Writer's Project, 9780982625194, 320pp.
Publication Date: April 1, 2012
About the Author
Rose Solari is the author of two full-length collections of poetry, Difficult Weather and Orpheus in the Park, and the play Looking for Guenevere, which retells Arthurian legend from a woman's perspective. Her poetry and prose have appeared in many journals and anthologies, including American Poetry: The Next Generation, Just Like A Girl: A Manifesta, and Initiate: New Oxford Writing. She is the recipient of the Randall Jarrell Poetry Prize, an Academy of American Poets University Prize, an EMMA Award for excellence in print journalism, and grants from the Maryland State Arts Council and the DC Commission on the Arts and Humanities. In spring of 2012, she will be a visiting fellow at Kellogg College, Oxford. She lives in Bethesda, Maryland.
or
Not Currently Available for Direct Purchase