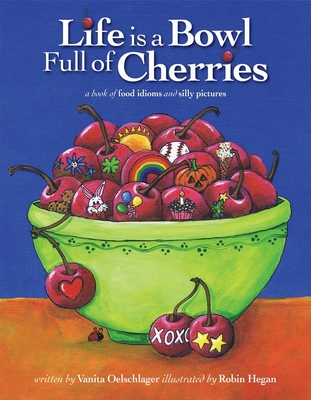 Life Is a Bowl Full of Cherries (Hardcover)
Vanita Books, 9780982636633, 40pp.
Publication Date: May 1, 2011
Other Editions of This Title:
Paperback (5/1/2011)
* Individual store prices may vary.
Description
Life is a Bowl Full of Cherries show children the magic of idioms - words that separately have one meaning, but together take on something entirely different.
Children are curious about words, especially phrases that make them laugh ("Couch potato "), sound silly ("Eat your words") or trigger images that tickle a child's sense of the absurd ("Pie in the sky").
Life is a Bowl Full of Cherries uses outlandish illustrations of what the words describe literally. The reader then has to guess the "real" meaning of the phrases (which is upside down in the corner of each spread). At the end of the book, the reader is invited to learn more about these figures of speech.
Our first book of idioms, Birds of a Feather (2009), dealt with birds, insects or animals. Life is a Bowl Full of Cherries uses food idioms. Both are fun - and instructive
About the Author
Vanita Oelschlager is a wife, mother, grandmother, philanthropist, former teacher, current caregiver, author and poet. A graduate of Mount Union College in Alliance, Ohio, she now serves as a Trustee of her alma mater and as Writer in Residence for the Literacy Program at The University of Akron. Vanita and her husband Jim were honored with a Lifetime Achievement Award from the National Multiple Sclerosis Society in 2006. She was the Congressional Angels in Adoption award recipient for the State of Ohio in 2007 and was named National Volunteer of the Year by the MS Society in 2008. Vanita was also honored in 2009 as the Woman Philanthropist of the Year by the Summit County Chapter of the United Way.