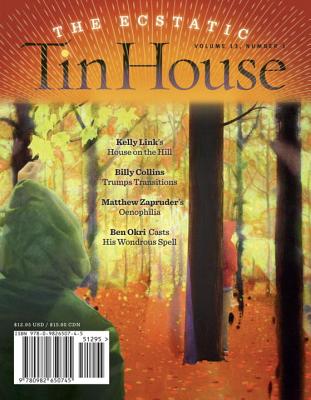 Tin House (Paperback)
The Ecstatic
Tin House Magazine, 9780982650745, 220pp.
Publication Date: September 13, 2011
* Individual store prices may vary.
Description
In our increasingly mediated society, where joy is self-conscious and tweeted about as it is happening, is it possible for the genuinely ecstatic experience? From religious to chemically induced, from biochemical analysis to attempts to capture the ineffable, our issue on the ecstatic will feature poetry, fiction, and essays addressing the ecstatic and its counterparts the comedown and ecstasy thwarted, whether by internal or external means.
"Tin House" is a beautifully designed periodical that features the best writers of our time alongside a new generation of talent poised to become the most important voices of the future. Content includes short stories, profiles, author interviews, poetry, essays, and unique departments such as "Lost and Found," in which writers review overlooked or underrated books, and "Blithe Spirits" and "Readable Feast," which present tales and recipes for drinks and food in a literary way.
or
Not Currently Available for Direct Purchase