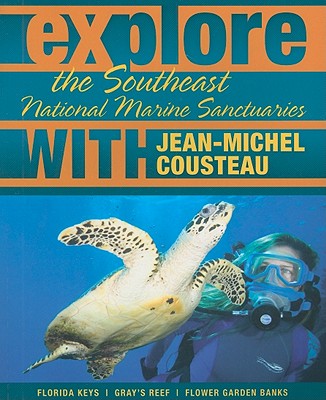 Explore the Southeast National Marine Sanctuaries with Jean-Michel Cousteau
Florida Keys/Gray's Reef/Flower Garden Banks
Paperback

* Individual store prices may vary.
Description
Based on the famed French explorer's film series, Jean-Michel Cousteau: Ocean Adventures, these are the definitive guides to America's thirteen National Marine Sanctuaries and its one Marine National Monument. Each of the four books conducts a grand adventure through one of the four regions of the National Marine Sanctuary system, combining engaging descriptions, stunning four-color photography, and behind-the-scenes stories from the Ocean Futures Society expedition team. Insightful inquiries into the health of the world's oceans are provided along with an overview of several incredible underwater treasures. Conveying the beauty of the ocean and the specific measures being put into effect to preserve it, this inspirational collection also features detailed, practical information for planning visits to the sanctuaries.
Praise For Explore the Southeast National Marine Sanctuaries with Jean-Michel Cousteau: Florida Keys/Gray's Reef/Flower Garden Banks…
"Jean-Michel [Cousteau] is the authoritative servant on the sea for our generation and future generations. This incredible series will be beneficial in getting the word out about the importance of protecting our oceans and the marine life that call it home." Robert Lyn Nelson, artist and environmentalist


"Other books on the marine sanctuaries are technical and specialized. This attractive guide for lay readers will interest divers, photographers, tourists, conservationists, and marine biology buffs." Library Journal (February 1, 2011)
Ocean Publishing (FL), 9780982694015, 194pp.
Publication Date: April 1, 2011
About the Author
Jean-Michel Cousteau is a recipient of the Emmy award, the Peabody Award, the 7 d Or, and the Cable Ace Award. He has produced more than 80 films and is the executive producer of the television show "Jean-Michel Cousteau: Ocean Adventures." He is a founder of the National Marine Sanctuary Foundation. He lives in Santa Barbara, California. Sylvia A. Earle is an Explorer-in-Residence at the National Geographic Society, leader of the Sustainable Seas Expeditions, and chair of Google Earth advisory council for the ocean. She is a charter member of the Ocean Futures Society Advisory Board and the former chief scientist of the National Oceanic Atmospheric Association. She is a founder of the National Marine Sanctuary Foundation. She lives in Oakland, California. Maia McGuire is the Sea Grant Extension Agent for the University of FloridaSt. Augustine. She is a member of the Florida Marine Science Education Association and the National Marine Educators Association. She lives in St. Augustine, Florida."
or
Not Currently Available for Direct Purchase