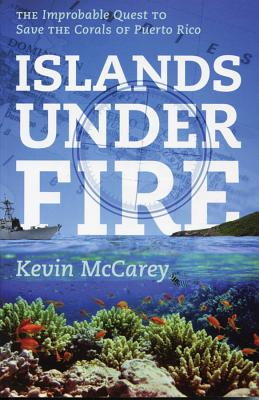 Islands Under Fire (Paperback)
The Improbable Quest to Save the Corals of Puerto Rico
Ocean Publishing (FL), 9780982694084, 168pp.
Publication Date: September 26, 2012
Other Editions of This Title:
Hardcover (4/1/2012)
* Individual store prices may vary.
Description
A portrait of an often overlooked part of America--Puerto Rico and the Spanish Virgin Islands--this is the little-known story of how the U.S. government, in particular the Navy, almost destroyed a pristine coral reef to provide a target for gunners. The author's true and humorous account of his role in this sometimes bizarre tale reveals how locals, politicos, and mariners came together to save a coral reef from certain destruction, and how the need to protect the fragile marine environment can bring meaning and direction to anyone's life, young or old.
The conservation efforts represent a perfect example of what highly motivated citizens and political leaders can achieve when taking action to protect what they love. The author, hired as captain of a small research vessel, led the underwater search for evidence of the coral reef damage that would be used to convince the U.S. government to stop its bombardment of the island.
While he did not have a direct role in the legal activities of Washington, DC, his efforts to collect factual evidence that would be used by the lawyers proved to be of immeasurable importance. His role enabled the Culebrans, the residents of this tranquil island paradise, to gather proof of the destruction, which ultimately convinced everyone--including President Nixon--to stop the carnage. This triumphant tale serves as an inspiration for anyone wanting to make a difference in environmental conservation.
About the Author
Kevin McCarey had worked as a merchant marine deck officer and oceanographer when he quit life at sea to study filmmaking at the University of Oregon. He worked on the Peabody Award-winning series "Portrait of America" and won Emmys for writing and directing. His documentary "Trumpet of Conscience" and narrative short "San Juan Story" were both Academy Award semi-finalists. He has also written and supervised films for National Geographic, including "Dolphins: The Wild Side," " Roar! One Man s Pride," "Sea Monsters," and" Tigers of the Snow." He teaches filmmaking at the Savannah College of Art and Design. He lives in Savannah, Georgia."
Praise For Islands Under Fire: The Improbable Quest to Save the Corals of Puerto Rico…
"It is flat-out brilliant. I especially love the beauty of the ending . . . McCarey's ability with bringing characters to life, weaving in history, and the apposite quotation, is inspiring."  —T. C. Boyle, author, Tortilla Curtain and When The Killing's Done


"Although it extols the urgent necessity of finding a new way of dealing with non-human life, it does not belabor the reader or preach at him. It gets across the message so skillfully imbedded in a damn good story that I for one could not put it down. The message comes through but almost subliminally."  —Farley Mowat, author, Eastern Passage, Otherwise, Never Cry Wolf, and A Whale for the Killing


"It is a new kind of narrative: part Liar's Club and part Lonely Planet bundled into one terrific book."  —David Hamlin, executive producer, National Geographic TV and Film


"This is an exuberant tropical adventure regaled with gusto, and with exquisite prose that brings the colorful Puerto Rican characters to vivacious, chromatic life."  —Christopher P. Baker, author, Moon Cuba and Mi Moto Fidel: Motorcycling Through Castro's Cuba

"This memoir, part travelogue and part natural history, is rich with humor, misadventure, and triumph. McCarey's writing is a pleasure, his penchant for simile and skill with dialogue particular delights. . . . [This] is an engrossing and joyful trip." —Publishers Weekly, STARRED REVIEW (January 7, 2013)
or
Not Currently Available for Direct Purchase