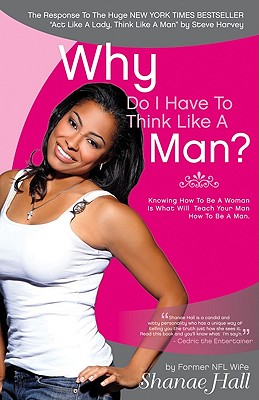 Why Do I Have to Think Like a Man? (Paperback)
How to Think Like a Lady and Still Get the Man
Farrah Gray Publishing, Inc., 9780982702703, 250pp.
Publication Date: October 1, 2010
Other Editions of This Title:
Paperback (1/28/2014)
* Individual store prices may vary.
Description
Ready To Up Your Game?
This page-turner leaves readers buzzing with oohs, ahhhs and OMG's from the first paragraph. Written as a straight talk, no chaser retort to the Steve Harvey's runaway bestseller 'Act Like a Lady, Think Like a Man, ' Shanae Hall's 'Why Do I have To Think Like a Man?' is a fitting resounding response regarding men, sex, relationships and women getting what they really 'reeeally' want. Finally ... THE LADIES GET THEIR SAY As a Sirius Satellite Radio personality on Jaime Foxx's 'Foxxhole' and a former NFL wife appearing on 'E True Hollywood Story, Sports Stars, Private Lives, ' Shanae Hall doesn't shy away from life's difficult conversations. If it has to be said, Shanae will say it. And this book unequivocally proves the point. In their own funny, fresh and bold way, Shanae and her co-author and mother Rhonda Frost, tell it like it is and like it most definitely is not as they hilariously chronicle their marriages, their divorces, and their dating of men from the NBA, NFL, and Hollywood stars to everyday rank-and-file guys who seem worthy. From engagingly different intergenerational perspectives, Shanae and Rhonda make it clear that the persistent 'player' mentality in today's men is fashioned, nurtured and created by the very women who hate it so much. ' Shanae Hall is a candid and witty personality who has a unique way of telling you the truth just how she sees it.
Read this book and you'll know what I'm say'n. '
--Cedric the Entertainer 'Are you ready for a real self-help relationship book that is an eye-opener, and will leave you speechless?'
--Gena James Pitts, Founder, Professional Sports Wives Association 'Thank goodness for Shanae Hall being a voice I can relate to God forbid the moment when women believe we have to think like men in order to be in relationships with them. What is this world coming to?'
--Best Selling author Attorney Rita Ewing, ex-wife of Patrick Ewing
and Partner in Hue-Man Bookstore in Manhattan
'From the first time I met Shanae, I knew she was a no nonsense person that would give it to you straight-up holding nothing back. This book has proved me right '
--FRANK SKI, V103-FM Atlanta
or
Not Currently Available for Direct Purchase