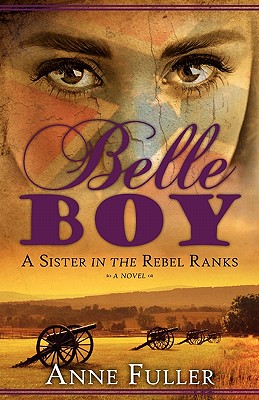 Belle Boy (Paperback)
A Sister in the Rebel Ranks
Fuller Minds, LLC, 9780982743010, 152pp.
Publication Date: August 18, 2010
* Individual store prices may vary.
Description
Midwest Book Review says Belle Boy is "both educational and entertaining read throughout for secondary readers" When Samantha Anne's brother, Johnny, goes missing-in-action while fighting for the Confederate army, she takes on the responsibility of finding him herself. Lucky for her, she grew up tagging along with Johnny and his friends, doing things a proper Southern Belle should never do. These skills come in handy as she disguises herself to join the rebel ranks. Between fierce and bloody battles, she searches the tired, filthy faces of soldiers looking for Johnny. Along the way, her life is forever changed by the difficult choices she is forced to make, the horrors of war she shares with her fellow soldiers, and the courage she discovers within.
About the Author
Born in Provo, Utah, Anne and her family moved around the western United States before settling in Missoula, Montana. She is still an ardent fan of the Big Sky country. Anne left Montana in 1991 to attend Brigham Young University. She graduated in 1995 with a bachelor's degree in business. Anne and husband Mark have moved 11 times in their first 15 years of marriage, including two and a half years in Duesseldorf, Germany. They can include two stays in Denver and two in Georgia among the places they have lived. While in Georgia, Anne fell in love with all things Civil War related. Anne spent many hours researching and visiting Civil War battlefields and museums. From there, her imagination really took off and Anne began writing historical fiction to tell the stories of how it might have been.