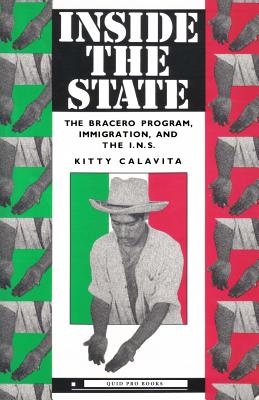 Inside the State (Paperback)
The Bracero Program, Immigration, and the I.N.S.
Quid Pro, LLC, 9780982750483, 296pp.
Publication Date: August 5, 2010
* Individual store prices may vary.
Description
The recognized socio-legal study of the Bracero labor program, why it failed, and what that means to immigration policy and organizational theory. Professor Calavita unearthed long-buried INS and Congressional records, and conducted extensive personal interviews of the people involved, to figure out why this program of temporary farmworkers, which dominated for more than two decades in the Southwest U.S., ultimately collapsed. Her findings say a lot about the catch-22 of migration and labor, as well as refuting stereotypic political theory of agency "capture" to explain the program's demise. They also tell a fascinating methodological story of entrenched agencies and the sheer archaeology of stubborn research into vested interests and bureaucratic inertia. This book has been adopted in many college classes over the years, and now is available in its 2010 edition with the author's new Foreword as part of the Classics of Law and Society Series: a classic book with continuing substantive and methodological value. As the Foreword notes, worries about immigration and labor persist, as does basic dysfunction of the present form of INS. Digging deeper reveals the persistence of a structural tension between popular perceptions of immigration, the needs for agricultural labor, and the dynamics inside the state's administrative structures -- in fact the human actors, she emphasizes -- that deal with these controversial issues. Also available in high-quality digital and ebook formats from Quid Pro, for flexible classroom adoptions and worldwide accessibility.
About the Author
Kitty Calavita is Chancellor's Professor of Criminology, Law and Society at the University of California, Irvine. She has published widely on immigration both in its social and human consequences and in policy and law. Her most recent book is Invitation to Law and Society: An Introduction to the Study of Real Law (University of Chicago Press, 2010).