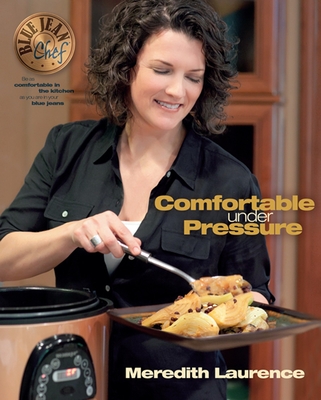 Comfortable Under Pressure (Paperback)
Walah LLC, 9780982754016, 232pp.
Publication Date: April 15, 2013
Description
If your pressure cooker has been collecting dust, then you need to get Comfortable Under Pressure Meredith Laurence, the Blue Jean Chef, has been cooking on live television on QVC for over ten years. By sharing tips, tricks and techniques with the QVC customers while equipping their kitchens with QVC's professional TechniqueA(R) and Blue Jean ChefA(R) cookware, Meredith has helped people become comfortable in their kitchens. Now, in this cookbook, Meredith gives you a wide variety of delicious recipes for the pressure cooker, so you can get meals on the table in one third of the time it would normally take. Her recipes, tips, and techniques will help make any cook more Comfortable Under Pressure. With 125 recipes and over 100 tips and explanations, Blue Jean Chef: Comfortable Under Pressure will help you create delicious meals while becoming more versatile and at ease with your pressure cooker. Don't let the pressure get to you Get Comfortable Under Pressure.
About the Author
Meredith Laurence was born in Canada, but has made Philadelphia her home since 2001. She is a graduate of the New England Culinary Institute and has worked in numerous capacities and settings in the food world, from restaurants in France to California, cooking schools across the USA, and a culinary consulting test kitchen. Meredith's belief garnered from her diverse experience is that being comfortable in the kitchen is the key to successful and enjoyable cooking. How comfortable? Well, as comfortable as you would be in your blue jeans, relaxing with friends. Meredith currently cooks on live television for QVC as the Blue Jean Chef, with appearances ranging from two to twelve per week.
Advertisement