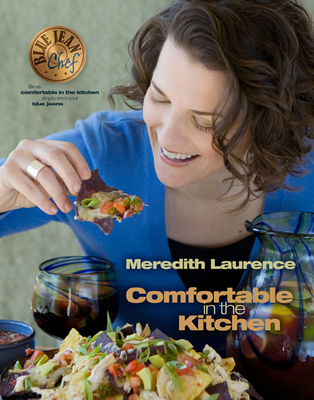 Blue Jean Chef: Comfortable in the Kitchen (Paperback)
Comfortable in the Kitchen
Walah LLC, 9780982754030, 311pp.
Publication Date: October 31, 2010
Description
Are you as comfortable in the kitchen as you are in your blue jeans? Would you like to be? In Blue Jean Chef: Comfortable in the Kitchen, Meredith Laurence, the Blue Jean Chef, helps you settle into your comfort zone in the kitchen with tips, tricks, explanations of cooking techniques, and over 200 recipes. Meredith shares her knowledge acquired from years working in cooking schools, test kitchens and restaurants in France, Canada and the USA. Her delicious, easy-to-follow recipes, interesting tips and informative explanations will help make any cook more comfortable in the kitchen and inspire new meals. Blue Jean Chef: Comfortable in the Kitchen is designed to teach basic techniques and then strengthen skills, each chapter contains basic recipes that will give you a solid understanding of how the dish works, and four other recipes that build on that technique, but use different ingredients to create a unique and delicious meal. Once you've mastered the basic recipe and practiced the variations, you'll be comfortable enough with the dish to improvise and make it your own For example, start with the magically simple Basic Roast Chicken. Next, spice things up with Jerk Spiced Roast Chicken, Chipotle Orange Roast Chicken, Summer Ale Chicken with Caramelized Onions, and Five-Spice Roast Chicken. With chapters on Soups and Salads, Sandwiches and Snacks, Meat and Poultry, Fish and Seafood, Vegetables, Breakfast, and Desserts and Treats, Meredith will help you have all your bases covered. We spend a lot of time in the kitchen. You might as well get comfortable.
About the Author
Meredith Laurence was born in Canada, but has made Philadelphia her home since 2001. She is a graduate of the New England Culinary Institute and has worked in numerous capacities and settings in the food world, from restaurants in France to California, cooking schools across the USA, and a culinary consulting test kitchen. Meredith's belief garnered from her diverse experience is that being comfortable in the kitchen is the key to successful and enjoyable cooking. How comfortable? Well, as comfortable as you would be in your blue jeans, relaxing with friends. Meredith currently cooks on live television for QVC as the Blue Jean Chef, with appearances ranging from two to twelve per week.
Advertisement