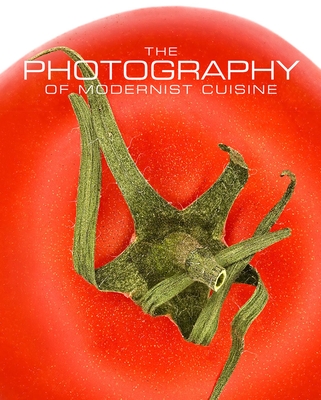 The Photography of Modernist Cuisine
Hardcover

* Individual store prices may vary.
Description
Nathan Myhrvold and the culinary wizards at The Cooking Lab redefined what a cookbook can be with
Modernist Cuisine: The Art and Science of Cooking
, heralded by the James Beard Foundation as Cookbook of the Year and a once-in-a-lifetime publishing event for anyone who is passionate about food and cooking. Now the same team has produced
The Photography of Modernist Cuisine
, a feast for the eyes that serves up the beauty of food through innovative and striking photography. Simple ingredients, eclectic dishes, and the dynamic phenomena at work in the kitchen are transformed into vivid, arresting art in 300 giant images. With spreads nearly 60% larger than those in
Modernist Cuisine
and art-book printing on the highest quality paper,
The Photography of Modernist Cuisine
will be a prized possession and a treasured gift for food lovers, photo buffs, and anyone who appreciates the natural beauty of food and the joy of seeing it from intriguing new perspectives.
The hundreds of jaw-dropping photographs include some of the most amazing images from Modernist Cuisine and Modernist Cuisine at Home as well as more than 250 new and previously unpublished photos. Witness the intricate inner details of a blueberry, the time-frozen chaos inside a spice grinder, and the hypnotizing interplay of color and patterns in the juxtaposed flesh and skin of a salmon. See the magical view of a boiling pot of vegetables in canning jars sliced through the middle, and marvel at the levitating layers of Modernist grilled-cheese sandwiches. The images stand on their own, but readers can follow their curiosity to illuminating descriptions in the back of the book that delve into the stories, techniques, and science behind each photo.
The Photography of Modernist Cuisine also takes you into The Cooking Lab's revolutionary kitchen and its photo studio on a visual tour that reveals the special equipment and techniques the Modernist Cuisine team uses to create its culinary inventions and spectacular images. Aspiring photographers will find useful tips on how to frame and shoot their own professional-quality photographs of food in both the restaurant and the home.
With its previous award-winning books, The Cooking Lab wowed critics and media by demonstrating new ways to cook and eat; now watch as the inventive minds of Modernist Cuisine transform the way that we look our meals. It's food, as you've never seen it before.
Cooking Lab, 9780982761021, 312pp.
Publication Date: October 22, 2013
About the Author
DR. NATHAN MYHRVOLD is chief executive officer and a founder of Intellectual Ventures. Before founding his invention company, Myhrvold was the first chief technology officer at Microsoft. He left Microsoft in 1999 to pursue several interests, including a lifelong interest in cooking and food science.Myhrvold competed on a team that won first place in several categories at the 1991 World Championship of Barbecue, including first prize in the special pasta category for a recipe that Myhrvold developed on the day of the contest.After working for two years as a stagier at Seattle's top French restaurant, Rover's, Myhrvold completed culinary training with renowned chef Anne Willan at the Ecole De La Varenne. In addition, he has worked as Chief Gastronomic Officer for Zagat Survey, publisher of the popular Zagat restaurant guidebooks. Through his many visits to the world's top restaurants, Myhrvold has become personally acquainted with many of the leading modernist chefs and the science-inspired cooking techniques they have pioneered.Myhrvold's formal education includes degrees in mathematics, geophysics, and space physics from UCLA, and Ph.D.s in mathematical economics and theoretical physics from Princeton University. In his postdoctoral work at Cambridge University, Myhrvold worked on quantum theories of gravity with the renowned cosmologist Stephen Hawking. www.modernistcuisine.com