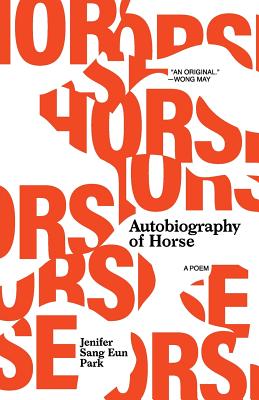 Autobiography of Horse
A Poem
Paperback

* Individual store prices may vary.
Description
A Paris Review Staff Pick, April 2019.
Honorable Mention in the 2021 Association for Asian American Studies Book Award for Outstanding Achievement
The co-winner of the inaugural Gaudy Boy Poetry Book Prize.
A frenetic tour of a splayed self writing through an equine obsession.
I became obsessed. I swallowed myself whole and turned into a knot. I couldn't undo myself, so I crawled inside a horse. Inside the horse I hardened, and then broke. The horse collected the pieces and glued me back together. I unraveled the horse and stitched it back together. The horse trampled me and I burned through its hooves.
Autobiography of Horse documents Jenifer Sang Eun Park's obsessive and parasitic relationship with the horse. At one point a muse, the horse is transformed into a vessel used to travel the volatile hollows of memory, selfhood, depression, and loss. To make this journey, the horse mutates from an image into a companion, a projection, and a reflection that, as Wallace Stevens wrote in "The Noble Rider and the Sound of Words," injects imagination with "the strength of reality."
Presented in lyrical prose, diagrams, photos, and conceptual excerpts from imagined texts, Autobiography of Horse pieces together a true story spurred by a tormented, pathological, and, ultimately, redemptive imagination.
Gaudy Boy, LLC, 9780982814246, 94pp.
Publication Date: April 6, 2019