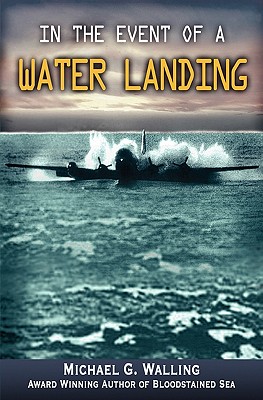 In the Event of a Water Landing
Paperback

* Individual store prices may vary.
Description
In the Event of a Water Landing At 8:15 A.M. on October 14, 1947, Chuck Martin, the 26-year-old pilot of the Boeing 314 flying boat named Bermuda Sky Queen, attempted to do what had never been done before - land an 88,000 pound aircraft in thirty-five-foot high seas. The lives of sixty-eight passengers and crew on board depended on his ability. A mile away was the 327-foot US Coast Guard Cutter George M. Bibb. The cutter's crew watched as the plane descended. If Sky Queen survived the landing, getting the passengers to safety would be their job. Nine years later and half a world away, Captain Richard Ogg, flying the Pan American Airways Stratocruiser Sovereign of the Skies, was forced ditch the aircraft along with its forty-three passengers and crew. The Coast Guard was nearby. Manning Ocean Station November was the US Coast Guard Cutter Pontchartrain. Once more, rescuing the survivors would be in their hands. In the Event of a Water Landing tells for the first time the full stories of the Bermuda Sky Queen and Sovereign of the Skies rescues, the only two completely successful open ocean ditchings in Commercial Aviation history. These two stories encompass many facets of ditchings: bad weather, engine failure, horrific sea conditions, and indomitable courage in the face of death. Between these two are tales of other ditchings as well as the journey we humans have undertaken from the beginning of transoceanic flight to today. Using the voices of passengers, flight crew, and those who rescued them, an amazing tale unfolds. Their vivid memories, interspersed with contemporary news reports, serve to flesh out the unemotional entries from official investigations. These ditchings and rescues embody the hopes, fears, and courage of people facing death hundreds of miles from land and the audacity of the men who risked their own lives to save them.
Cutter Publishing, 9780982855300, 206pp.
Publication Date: September 28, 2010
About the Author
In June 2004, Walling's first book, Bloodstained Sea: The U.S. Coast Guard in the Battle of the Atlantic 1941-1944, was published by International Marine, a division of McGraw-Hill, and received critical acclaim by reviewers and veterans. The Naval Order of the United States honored him with its 2005 Samuel Eliot Morison Award for Naval Literature. He appeared on the History Channel series Man, Moment, Machine episode about Andrew Higgins, the designer and builder of the vital landing craft used in World War II, and, as a script consultant for the episode, reviewed the material for accuracy. On the lighter side, Walling published, in conjunction with Flat Hammock Press, a new edition of "Sinbad of the Coast Guard," the adventurous, true story of the USCGC Campbell's mascot whose exploits during World War II became legend. Appropriately, Sinbad's story was told by a fellow member of the Coast Guard, Chief George F. Foley, Jr., while the fine pictures were drawn by the outstanding Coast Guard Reserve artist, George Gray. In November 2008, his first novel Choke Points was published by Cutter Publishing. The plot centers on the real threats to US Maritime and Port Security. After graduating from Montclair State College, Walling served in the U.S. Coast Guard for six years as a commissioned officer and a senior petty officer. His assignments included buoy tending, search and rescue missions, drug law enforcement, and oceanographic operations in the Arctic. As part of the Boarding Party and Prize Crew teams on two cutters, he participated in the seizures of a Panamanian drug-runner and a Cuban fishing boat. Walling has spent more than 45 years collecting stories from hundreds of World War II veterans. He and his wife, Mary, live in Hudson, Massachusetts and Mike be contacted through his web site: www.mikewalling.com