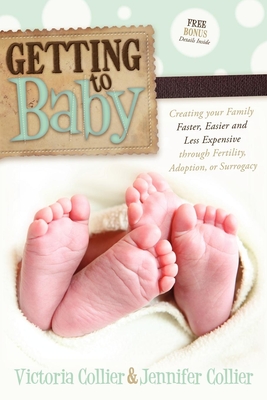 Getting to Baby (Paperback)
Creating Your Family Faster, Easier and Less Expensive Through Fertility, Adoption, or Surrogacy
Glazer Kennedy Publishing, 9780982859094, 220pp.
Publication Date: August 30, 2011
* Individual store prices may vary.
Description
If you would like a baby NOW, but things just aren't happening, hang in there -- We have the solution.
Frustration, anger, jealousy, and despair are common feelings in this situation. However, holding on to these emotions too long can further impair the ability to create your family. "Getting to Baby: Creating your Family Faster, Easier and Less Expensive through Fertility, Adoption, or Surrogacy" will show you how to continue your journey with hope, optimism, and success.
Jennifer and Victoria have been there and done that. The heartfelt experience that they went through for five years to create their family is touching, inspiring, and provides a lot of insight on how to create your family.
Jennifer and Victoria successfully went through the fertility process and then suffered a miscarriage at 17 weeks; tried adoption and held a baby for three days before returning home empty handed; and then discovered the secret of success through surrogacy.
Katherine and Christopher, beautiful, healthy twins were born less than 12 months from when Jennifer and Victoria met and interviewed their surrogate.
Whether you want to have your children through fertility treatments, adoption, or surrogacy, Jennifer and Victoria have learned and are sharing a lot of shortcuts that will help you save time and money.
You don't have to be a celebrity to achieve your dreams of having a family, but we can learn from them by observing which options were successful for them. Nicole Kidman and Celine Dion used fertility treatments to have children. Angelina Jolie and and Rosie O'Donnell chose to adopt children. An increasing number of celebrities are now choosing surrogacy, to include Sarah Jessica Parker and Dennis Quaid.
Before you continue to spend money and waste time, read "Getting to Baby: Creating your Family Faster, Easier and Less Expensive through Fertility, Adoption, or Surrogacy" and use it as a resource to successfully create the family you deserve.

About the Author
Victoria Collier is a lawyer, business owner, author, entrepreneur, and mother of twins. Jennifer Collier is a lawyer who was working as an Assistant District Attorney until the birth of her twins. Through their journey to have children, enduring fertility treatments, putting themselves out there for adoption possibilities, and ultimately being successful through the use of surrogacy, Victoria and Jennifer have gained invaluable life experiences they can share with others to reduce stress, minimize cost, and create the family you want in a shorter period of time.