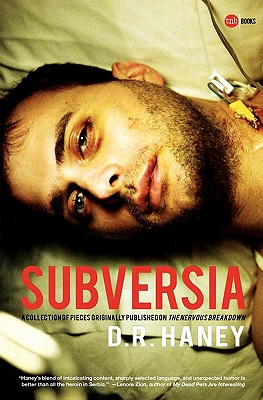 Subversia
Paperback

* Individual store prices may vary.
Description
In this bare-knuckled, frankly autobiographical collection, D.R. Haney shares a series of personal essays on his life, struggles, and artistic evolution; from punk rock malcontent in 1980s New York, to B-movie actor in the films of Roger Corman; to screenwriter on "Friday the 13th: Part VII"; to expatriated American writer in Serbia; to author of the celebrated underground novel "Banned for Life." Consisting of material originally published by the popular online literary magazine The Nervous Breakdown, "Subversia" is written with the bracing candor and lyrical beauty that have earned Haney a well-deserved cult following worldwide. Haney's blend of intoxicating content, sharply selected language, and unexpected humor is better than all the heroin in Serbia. Lenore Zion, author of "My Dead Pets Are Interesting" "Subversia" is a wild, thrilling ride through D.R. Haney's childhood, where he happily poses naked for the director of his summer camp; to adolescence, when he worries that he's going to commit murder; to young adulthood, when he tries to borrow money from an ATM and contemplates taking a crowbar to his girlfriend's head; to adulthood, where he writes screenplays that he considers so bad he unsuccessfully tries to report his to own death. It is a tribute to Haney's immense charisma, brutal honesty, and charming prose that in spite of everything he confesses, one can t help but fall hopelessly in love with him. - Jessica Anya Blau, author of "The Summer of Naked Swim Parties" and "Drinking Closer to Home" D.R. Haney may very well be the illegitimate love child of Henry Rollins and David Sedaris. - Jeff Martin, author of "My Dog Ate My Nobel Prize" and editor of "The Customer Is Always Wrong: The Retail Chronicles" Haney is absolutely compelling. You ll want to read his pieces over and over, and each time you ll marvel at how he took you someplace utterly different than the time before. - Robin Antalek, author of "The Summer We Fell Apart" The man writes a book. It is a great book of fiction. How will I ever top this? he says. He walks around, and sits and thinks. Then he writes a great book of essays. Ben Loory, author of "Stories for Nighttime and Some for the Day.
Tnb Books, 9780982859803, 240pp.
Publication Date: October 9, 2010