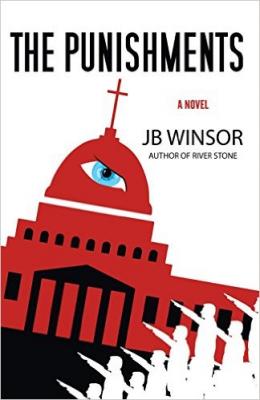 The Punishments (Paperback)
Boulder Digital Publishing LLC, 9780982919446, 308pp.
Publication Date: July 1, 2016
Other Editions of This Title:
Hardcover (7/1/2016)
* Individual store prices may vary.
Description
FORMER COVERT CIA OFFICER, VALERIE PLAME, SAYS,"THE PUNISHMENTS is an entertaining Orwellian thriller. It is fiction, yet the abuse of political power and the threat of nuclear weapons by foreign or domestic terrorists are very real." The Punishments is about the heart-pounding struggle of one family after voters unwittingly ELECT A DEMAGOGUE AND FUNDAMENTALIST GOVERNMENT. Enormous shifts threaten our way of life - artificial intelligence, robotics, surveillance, human relations, terrorism, Islamic fundamentalism, and the rise of American religious extremism. The novel's characters battle to hold on to friendship, love, and faith as they are thrust into the center of the largely unreported debate raging beneath the surface of Christianity and identity politics. One vote against the Citizens Justice & Security Act thrusts Senator William Thatcher, his wife, Carol, a blacklisted Planned Parenthood attorney, and their eleven-year-old son, Billy, onto the dreaded 'enemies list' at the new Department of Virtue. WELCOME TO TOMORROW.
Praise For The Punishments…
FORMER COVERT CIA OFFICER, VALERIE PLAME, SAYS,"THE PUNISHMENTS is an entertaining Orwellian thriller. It is fiction, yet the abuse of political power and the threat of nuclear weapons by foreign or domestic terrorists are very real." The Punishments is about the heart-pounding struggle of one family after voters unwittingly ELECT A DEMAGOGUE AND FUNDAMENTALIST GOVERNMENT. Enormous shifts threaten our way of life - artificial intelligence, robotics, surveillance, human relations, terrorism, Islamic fundamentalism, and the rise of American religious extremism. The novel's characters battle to hold on to friendship, love, and faith as they are thrust into the center of the largely unreported debate raging beneath the surface of Christianity and identity politics. One vote against the Citizens Justice & Security Act thrusts Senator William Thatcher, his wife, Carol, a blacklisted Planned Parenthood attorney, and their eleven-year-old son, Billy, onto the dreaded 'enemies list' at the new Department of Virtue. WELCOME TO TOMORROW