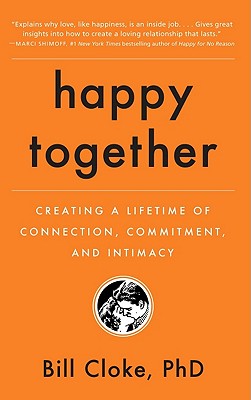 Happy Together
Creating a Lifetime of Connection, Commitment, and Intimacy
Paperback

* Individual store prices may vary.
Description
No matter how much passion there is at the beginning of a relationship, for love to last it must be actively created. Dr. Bill Cloke, an innovative and successful couples' therapist, has been helping couples create lasting connection, commitment, and intimacy by learning the essential relationship skills he now reveals in Happy Together.

With sensitivity and practicality, Happy Together pinpoints the issues and actions that can make or break our relationships. Step by step, it will show you

- How to identify and overcome personal barriers to meaningful and satisfying connections
- The defensive ways we unknowingly kill love and how to learn from conflict to create deeper intimacy
- The role of passion and sexuality in our relationships
- How to understand and deal with issues of shame and rage that can impact our ability to love
- Why deeply held myths about family, marriage, and idealized romance can create expectations that damage our connection with each other
- How to become partners in problem-solving
- How to effectively use the tools of compassionate communication and constructive complaining

Rich with practical tips and techniques, including sample dialogues to help you make meaningful changes, Happy Together will guide you in perfecting the skills you need to create a positive vision for your relationship and a roadmap for happiness.

A good book needs to have at least five great ideas about its subject. Dr. Bill Cloke's Happy Together has at least a hundred.
-Raphael Cushnir, author of The One Thing Holding You Back: Unleashing the Power of Emotional Connection

Dr. Bill Cloke provides an accurate portrait of how love is created and nourished. This is a must-have book for a lasting relationship.
-Dr. Carol Bruess and Anna Kudak, authors of What Happy Couples Do

Bill Cloke's Happy Together is full of wisdom, and a compelling read. He stresses that love must be created, every day; the store of love between people must be built up, nourished, and protected. This is how we stay happy together: not just as couples, but as friends and families. This book is a treasure trove of the building blocks of love.
-Allegra Huston (daughter of director John Huston), author of Love Child.
Pacific Highlands Press, 9780982932414, 240pp.
Publication Date: January 15, 2011
or
Not Currently Available for Direct Purchase