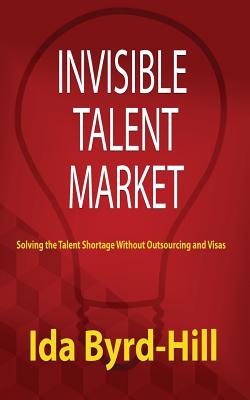 Invisible Talent Market
Solving the Talent Shortage Without Outsourcing and Visas
Paperback

* Individual store prices may vary.
Description
Invisible Talent Market is a Diversity & Inclusion guide, utilizing economic history of Blacks, to lay the foundation that grooming Blacks with digital business skills is a viable strategy to reduce America's talent shortage, without outsourcing and visas, as Blacks satisfied the talent shortages of the Agricultural and Industrial Revolutions.
Upheaval Media, 9780982961032, 122pp.
Publication Date: May 15, 2017
About the Author
Ida Byrd-Hill is known as an urban economist, futurist, diversity & inclusion specialist, who has radically transformed 6 urban public schools. She is the President of Uplift, Inc., a nonprofit complex strategy firm where she combines her personal experience of migrating out of poverty with her corporate experience in Executive Search, Finance, HR, Marketing and Sales to assist corporations develop talent for their employee base. Her radical projects, Automation Workz, Fluke, Hustle & TECHknow and Weyn, have been recognized by Automation Alley, Associated Press, Daytime TV, Essence Magazine, Xconomy and other media outlets. Ida has a BA in Economics from the University of Michigan-Ann Arbor 1989 and a MBA from Jack Welch Management Institute 2014.