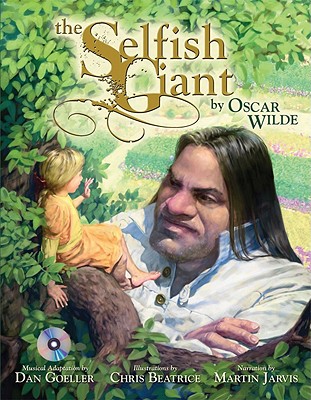 The Selfish Giant [With CD (Audio)] (Hardcover)
Noteworthy Books, 9780983003809, 28pp.
Publication Date: March 1, 2011
Other Editions of This Title:
Digital Audiobook (6/13/2013)
Paperback (3/16/2015)
Hardcover (4/1/2013)
Hardcover (4/1/2015)
Hardcover (4/1/2019)
Hardcover (3/31/1995)
Hardcover, Spanish (9/30/2014)
* Individual store prices may vary.
Description
After many years of being away, a giant returns home to find children have been playing in his garden every afternoon. Now he must decide if he will share his large, lovely garden or keep its beauty for himself. Complimented by enchanting artwork and an audio version complete with symphony orchestra, this classic fairy tale springs to life in an imaginative adaptation that will inspire children of all ages for generations.
About the Author
Oscar Wilde was a playwright, essayist, and novelist. He was the author of "The Importance of Being Earnest "and "The Picture of Dorian Gray." Dan Goeller is a composer whose works have been performed by orchestras and choruses worldwide, including members of the National Symphony, the Nashville Symphony, and the Arkansas Symphony. His compositions have also appeared on several nationally televised concerts, as well as regional and national radio and television advertisements. He lives in Sioux Falls, South Dakota. Chris Beatrice is an illustrator whose art has appeared on games, packaging, magazines, posters, and books, including "Gulliver's Travels "and "Robinson Crusoe." His clients include Simon and Schuster, MacMillan, Scholastic, Hyperion, and Penguin. His work has also been featured in "Spectrum," "Expose," "Exotique," and "Painter." He lives in Natick, Massachusetts. Martin Jarvis is an actor who has starred in plays on Broadway and for the Royal National Theatre and LA Theatre Works, among others. He has been in such films as "Buster "and "Titanic," and television shows such as "Marple, Morse," and "Murder She Wrote." He lives in Los Angeles."
Praise For The Selfish Giant [With CD (Audio)]…
I really enjoyed my first reading of The Selfish Giant. My enjoyment increased hugely upon listening to Dan Goeller's imaginative and beautifully orchestrated musical setting. As with all great musical settings of words and images, Mr. Goeller's music gives wings to the story."  Keith Lockhart, conductor, Boston Pops Orchestra
The reillustration of any classic fairy story is always cause of celebration.  Yet it is rare to find a book take quite as much joy in the original text as artist Chris Beatrice has here.  Playing with light and beauty, Beatrice brings Oscar Wilde's original story to rip-roaring life.  You can practically smell the thick perfumes of the flowers in this garden, or feel the warm spring breezes.  Without a doubt, this is the best illustrated version of this tale that I have ever seen.  Period."  Betsy Bird, children's librarian, New York Public Library, and member, Newberry Award committee
Here is a celebration of wonder and love. Goeller's music is a perfect complement to Wilde's story and Beatrice's paintings. I'm thrilled to see this old story gain new life in such a beautiful way."  Kathi Apelt, Newberry Honor winner and National Book finalist, and author, The Underneath
A window into both this wonderful story and the world of the orchestra."  Delta David Gier, former conductor and host, NY Philharmonic Young People's Concert Series
What makes this new book stand out is the CD and the music. I would guess that this could easily become a real favorite with young children. If you're looking for fairy tale entertainment, then The Selfish Giant is a good place to start."  Ann Giles, blogger, The Bookwitch, and columnist, The Guardian
The Selfish Giant is a musical, artistic and literary tour de force. Dan Goeller has created a stunning work that summons just the right musical tension and release with his compelling orchestrations. I can't think of any age group who would not be thoroughly enthralled with the confluence of these three artistic expressions in the telling of this story."  Greg Nelson, seven-time Grammy Award winning songwriter and producer
Oscar Wilde's story cries out for musical treatment on every page; Dan Goeller's version proves to be solidly crafted and musically fulfilling. While totally appropriate for children, adults who listen along will find themselves in the presence of a born musical storyteller. The score is cinematic in its vividly pictorial qualities."  Dr. Glenn Winters, director, Community Outreach for the Virginia Opera
A veritable feast for the eyes and ears."  Joseph Pearce, author, The Unmasking of Oscar Wilde