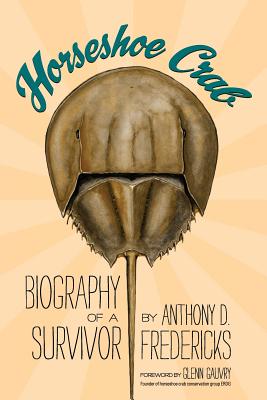 Horseshoe Crab
Biography of a Survivor
Paperback

* Individual store prices may vary.
Description
Traveling from the Delaware Bay to the Florida Panhandle, this examination is a quest through the natural history and science behind one of nature's oldest and oddest survivors—the horseshoe crab. With ten eyes, five pairs of walking legs, a heart half the length of their bodies, and blood that can save a person's life, horseshoe crabs have been on this planet for 445 million years—since long before the dinosaurs arrived. This book explores their unique biology and sex life, explains their importance to medical science and migratory shorebirds, and introduces readers to the people who are working to study and protect them.
Praise For Horseshoe Crab: Biography of a Survivor…
"An entertaining guide to a creature that is 445 million years old and still having sex on the beach."  —Richard Conniff, author, Spineless Wonders: Strange Tales from the Invertebrate World


"Anthony Fredericks takes readers on a quest to understand an important animal easy to overlook. His biography of a survivor is a reminder that a skillful storyteller can find a good tale anywhere, and it is a warning that we ignore the perils humankind creates for other animals at our own selfish risk."  —Peter Laufer, author, The Dangerous World of Butterflies


"A fascinating tour of horseshoe crabs and the people who study them. Through interviews and vivid descriptions of his experiences, Fredericks shares his journey to understand the complexities of horseshoe crab biology and the history of their exploitation."  —H. Jane Brockmann, professor of biology, University of Florida


"Every ten years or so the amazing story of how horseshoe crab blood saves millions of human lives changes, and has to be told all over again. This book takes readers on a whirlwind ride up and down the East Coast visiting the many people who are now working to protect this species that is so crucial to human health and the ecology of the East Coast of America."  —William Sargent, author, Crab Wars: A Tale of Horseshoe Crabs, Bioterrorism and Human Health


"One of those rare natural history books that makes clear the deep interdependence and relationship of humans to the natural world in ways they would little dream of without reading the book."  —Anne Rudloe, Gulf Specimen Marine Laboratory


"Fredericks' enthusiasm and admiration for the horseshoe crab is infectious; this entertaining, well-researched book is certain to garner more admirers for this ancient, underappreciated arthropod."  —Katie Fallon, author, Cerulean Blues
Ruka Press, 9780983011187, 272pp.
Publication Date: May 22, 2012
About the Author
Anthony D. Fredericks is a professor of education at York College of Pennsylvania and has written more than 125 books, including Ace Your Teacher Interview, Desert Dinosaurs, How Long Things Live, and Walking with Dinosaurs. He lives in York, Pennsylvania. Glenn Gauvry is the founder of the Ecological Research and Development Group (ERDG), which is the leading organization working for the preservation of horseshoe crabs. He lives in Little Creek, Delaware.