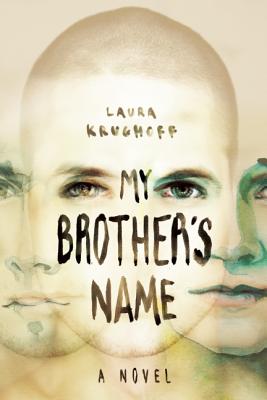 My Brother's Name
Paperback

* Individual store prices may vary.
Description
Jane Fields has idolized her older brother, John, since they were children. She follows in his footsteps as a drummer, and when he suffers a psychotic break as a young man, she follows him into the bewildering landscape of mental illness.
Surrendering to John's schizophrenic and elliptical logic, Jane assumes her older brother's identity, and begins to make a life for herself as a young man named John. Every day, Jane interacts with the world as John, and then comes home to tell her brother the stories of his own life, under the naive and perhaps mad hope that these stories will help John remember and return to the self he lost. But in the act of being John, Jane runs the risk of becoming him. Jane soon identifies more strongly with the man she's become than the overshadowed woman she once was. When John begins to demand that Jane give up certain aspects of the life she's built under her assumed identity, particularly a romance, Jane's double life becomes a house of cards that threatens to collapse. Jane and John are forced to confront the limits of their ability to control each other, and the world around them, through the stories they tellbut just how deep into mental illness can Jane slide?

Praise For My Brother's Name…
"Intriguing premise and deeply involved relationships between characters opens a new perspective on self and gender identity. ...Krughoff creates a fascinating portrait of a family coping with mental illness and explores the outer limits of sisterly love. ...by deeply involving the reader in Jane and John's lives, [Krughoff] provides much food for thought. Jane's transformation into Johnevocatively illustrated in stunning cover art by Anders Hansonis so complete that readers will be torn between wanting her to reveal her true identity and hoping she gets away with the ruse somehow." ForeWord Reviews

"Identity is a slippery slope in this GLBT novel written as a young woman's memoir-like tale of assuming her look-alike, schizophrenic brother's identity. ...Inevitably, romantic entanglement and pain result in Krughoff's fast-paced read that's as daring and provocative as it is entertaining." Booklist

"...a unique and intricately aligned debut." Publishers Weekly

"...Laura Krughoff bends that premise into a psychological exploration of mental illness, family loyalty and sexual identity in the enthralling new novel, My Brother's Name. ...Here's where Krughoff's talent shines as she normalizes the improbable ruse and ensnares the reader as an accessory to the deception. My Brother's Name is a compelling case study in shared sibling psychosis, as well as a taut exploration of identity." Wisconsin State Journal

"Brilliantly told with compassion." St. Paul Pioneer Press

"This is a multi-layered, deep novel that reads like a memoir and will give you plenty of food for thought. It can be alternately frustrating and hard to take, and beautiful and addicting. highly recommended and exceedingly satisfying. " — Minneapolis Books Examiner, Linda White

"A gutsy, poignant, bold and nuanced debut, Laura Krughoff's big talent tackles mental illness, gender identity, and the intricacies of the American middle-class family." Cris Mazza, author of Various Men Who Knew Us as Girls

Krughoff's debut novel is a disturbing, subversive, and strangely fun psychological thriller. While My Brother's Name has shades of Jeffrey Eugenides on gender identity, Siri Hustvedt on psychosis, even Jennifer Egan on the lengths to which siblings will go to identify with and claim one another, its alchemy of combustible ingredients adds up to something wholly original and compellingly its own." Gina Frangello, author of Slut Lullabies and My Sister's Continent

Laura Krughoff's daringly original novel kept me awake most of the night--not only was the plot so riveting that I had to continue reading to the end, I lay awake after I had finished, thinking about the characters and attempting to catch my breath. My Brother's Name is a book for anyone who loves a brother or a sister, a daughter or a son, especially a relative with mental illness. It's also a gripping read for anyone who loves masterful prose and provocative questions about gender, bodies, minds, and love." Eileen Pollack, author of Breaking and Entering

My Brother's Name offers an absorbing account of the cascading effects of mental illness upon identity. Krughoff's insightful, provocative portrayal of psychologically entangled siblings reminds me of early Ian McEwan." Peter Ho Davies, author of The Welsh Girl

"Laura Krughoff's My Brother's Name is a beautifully written and eerie novel about identity-slippage. At first you notice the story's memorable strangeness, and then you think: No, this could happen to anybody." Charles Baxter, author of The Soul Thief

"...an unsettling literary psychological thriller that poignantly tackles issues of gender identity and mental illness in our society." Largehearted Boy (blog)
Mighty Media Press, 9780983021940, 241pp.
Publication Date: September 3, 2013
About the Author
Laura Krughoff is a fiction writer whose work has been appearing in literary magazines and journals over the past decade. Her stories have been published in prestigious American venues such as Threepenny Review, The Seattle Review, Washington Square Review, and Chicago Tribune s Printers Row Journal, and internationally in the feminist Canadian magazine Room of One s Own (now known as Room Magazine). She is a recipient of the Washington Square Prize for Fiction for her story This Is One Way, a Pushcart Prize for her story Halley s Comet and a runner-up for a Nelson Algren Award from Chicago Tribune for her story The Beekeeper s Son. In 2011, she was a finalist for the University of Georgia Press Flannery O Connor Award for Short Fiction. She also writes and performs non-fiction with the story-telling performance collaborative Second Story. Laura is a writer, scholar, and teacher, living in Chicago, Illinois. "
Book Videos
or
Not Currently Available for Direct Purchase