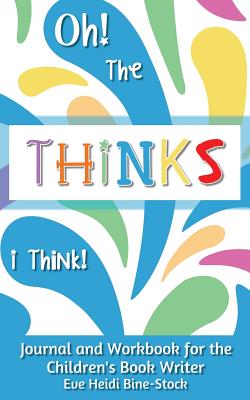 Oh! the Thinks I Think! (Paperback)
Journal and Workbook for the Children's Book Writer
E & E Publishing, 9780983149972, 122pp.
Publication Date: June 19, 2017
* Individual store prices may vary.
Description
At last A journal and workbook specifically for grownups who write children's books.
Award Finalist of the 2017 Best Book Awards.
Since most children's writers say they want to write picture books, this journal and workbook is written with you in mind. Writers for older age groups will also benefit.
This journal and workbook guides you through the entire process, from brainstorming ideas to character profiles and planning your story before you write it.
To help you come up with story ideas, this book provides writing prompts in both words and pictures.
There's plenty of room for you to jot down your story ideas and your first draft, and guidance for what to do next.
With the help of this handy, purse-sized, take-along journal and workbook, you can write your very own children's book
Note: You can get a FREE PDF of this journal and workbook if you download the FREE ebook, "How to Write a Children's Picture Book Volume III: Figures of Speech" by Eve Heidi Bine-Stock.
For the take-along, full-color, bound book version, scroll up and click "Add to Cart."