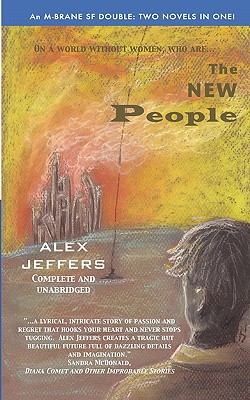 The New People/Elegant Threat
An M-Brane SF Double
Paperback

* Individual store prices may vary.
Description
A very special book, featuring in a single volume (under two beautiful covers), two spectacular short novels: "On a world without women, who are the New People?" The New People by Alex Jeffers, set on the watery planet Rahab in the distant future, presents a society where no females have been born for generations and where science has made it possible for men to continue in a single-sex world. But most males there are still born heterosexually oriented. The biological and existential conundrum inherent in this situation eventually answers the question of who the "New People" are and what their agenda is. But in the process of unfolding for the reader the nature of Rahab's society, Jeffers creates beautifully rendered characters and a deeply moving story that will surprise the reader throughout and leave a lasting impression. "A stunning act of betrayal on a deadly world " Brandon H. Bell's Elegant Threat...On the Demise of Captain Fantomas Patton-Guerrero and Loss of La Amenaza Elegente is a lovely, stirring, startling story focused on a group of far future humans making their living by wrangling the strange fauna of a deadly oceanic moon while facing impending conflict with their Post-Singularity cousins and sectarian strife within their own ranks. Though Bell foreshadows his story's conclusion from the very beginning, he has crafted such engaging characters that one cannot help but hold out hope that somehow disaster will be averted. Together, the two stories form a remarkable duo, the first M-Brane SF Double.
M-Brane SF, 9780983170938, 286pp.
Publication Date: May 31, 2011