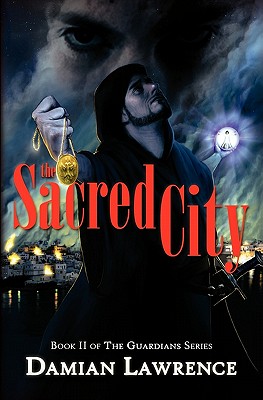 The Sacred City (Paperback)
Pentelicus Press, 9780983172116, 382pp.
Publication Date: May 29, 2011
* Individual store prices may vary.
or
Not Currently Available for Direct Purchase
Description
In a war against 'temporal terrorists', how far would you go to preserve your way of life?



Would you sacrifice your honor, or the lives of thousands, to safeguard the world as you know it? And if you did, could you ever go home again? For the members of an elite team of time-traveling intelligence agents, history hangs in the balance as they face critical questions such as these–and, depending on their answers, the future of humanity may never again be the same.



The year is 1825, and the fate of a civilization 250 years in the future is in jeopardy. While pursuing an enemy agent bent on altering history, the members of a mysterious time-traveling anti-terrorism organization find their operation compromised by dangerous internal religious factions and political rivalries. And those are the least of their problems.



With their mission on the verge of failure, the Guardians' only hope lies with a new Muslim recruit and his Christian mentor. But as they embark on a desperate search for answers, they find themselves drawn ever deeper into involvement in a past whose integrity they are sworn to protect. In a world in which life-or-death decisions abound, the question is–how will they manage to save the future, when they may not even be able to save themselves?



In The Sacred City–the thrilling sequel to the critically acclaimed novel, The Guardians of Time–author Damian Lawrence takes the reader on an action-packed journey of honor and sacrifice in which the past and the future are intertwined, and the outcome of neither is certain.
Praise For The Sacred City…
The second installment of Lawrence's Guardians series—following his debut novel The Guardians of Time (2011)—is equal parts epic science-fiction, time-travel adventure, historical-fiction drama and apocalyptic thriller. With nothing short of the future of civilization at stake, agents from a time-traveling anti-terrorism group must go back into the past to stop an enemy organization determined to alter history—and thus the future—for its nefarious purposes. With dual storylines set largely in 2074 Monemvasia, Greece, "the Gibraltar of the East," and early 19th-century Greece during the country's war for independence against the Ottoman Empire, the high octane narrative is powered by an ensemble cast of well-developed, emotionally compelling characters such as Rashid Ibn Taleb Al-Noury, a young Moroccan who has joined the ranks of the Guardians as a Paladin to try and uncover what the Trustees are plotting in 1825 Greece; John Crowe, a ruthless, charismatic Trustee operative and former Paladin; and Mark Lawson, the time traveler from the future who brought with him that which could save humanity—and potentially destroy it. Although the science-fiction element is an obviously integral part of the storyline, much of the time it takes a backseat to the saga's historical-fiction aspect. Lawrence excels at immersing the reader in 1825 Greece through vivid, thorough description and a clear knowledge of the area, its history and culture. Fans of elite alternate history sagas like S.M. Stirling's Island in the Sea of Time trilogy, Robert Silverberg's Roma Eterna and Eric Flint and David Drake's Belisarius sequence will be more than satisfied with the meticulous historical detail, adept characterization and intricate plotlines of the Guardians saga. Blending grand-scale storytelling with deeply provocative social and spiritual themes, Lawrence could very well be the next coming of Harry Turtledove. - Kirkus
Advertisement