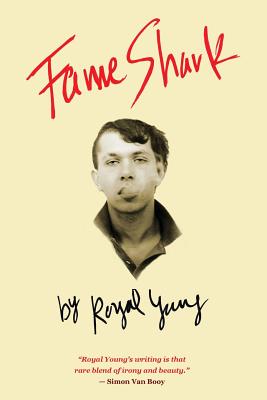 Fame Shark (Paperback)
Heliotrope Books LLC, 9780983294085, 218pp.
Publication Date: June 18, 2013
* Individual store prices may vary.
Description
In this gritty "Memoir Noir," Royal Young reexamines his turbulent childhood and adolescence in New York City of the 1990s. Grappling with issues of sexuality, addiction, and self-definition, he doggedly pursues every possible path to stardom, only to find himself mired in mangled relationships. His story is an unapologetic and ultimately profound, poignant commentary on celebrity culture and love in all its forms. "Royal Young has accomplished a rare feat in his fresh and riveting debut: he manages to recount his fascinating youth and unconventional family with a mixture of humor, scathing honesty & tenderness. Much more than simply a book about a kid who dreams of stardom, Fame Shark is a thoughtful, hilarious and moving love letter to his family and the Lower East Side of New York City." -Kristen Johnston, Emmy Award-winning actress and New York Times bestselling author of Guts "Royal Young stands out as heir apparent to ... literary Jews from early Philip Roth to any-time Jonathan Ames ... Some books you like, some you enjoy, some you feel the need to command the air waves and scream to the masses that they either have to read immediately, or live artistically stunted lives ... " - Jerry Stahl, author of Permanent Midnight "Royal Young's memoir is about a dreamer, set in the post-apocalyptic celebrity world of today, and Young, who grew up in New York-like Holden Caulfield if he wanted to be famous-is looking for adventure and action and becomes entangled in all sorts of romantic and sordid relationships. He points out the perplexing tragedy (and good fortune, I think) of what it means to be talented and rebellious, but not a celebrity." -Lily Koppel, bestselling author of The Astronaut Wives Club and The Red Leather Diary "Courageously confessional ... Royal Young's searing emotions burst through the page. At times I read Fame Shark through tears." - Jaime Lubin, The Huffington Post "Fame Shark is American Psycho meets Call It Sleep. A no-holds -barred saga of the extremes a human being can go to in his or her quest for attention. Young has the precocity and audacity of Shelley and the fearlessness of Philippe Petit." -Francis Levy, author of Erotomania: A Romance and Seven Days in Rio "Shameless, elegant, obscene." -Leopoldine Core, Poet and Center for Fiction Fellow "Fame Shark chronicles the hip and hilarious adventures of a neurotic, broke New York bookworm named Hazak who's trying to escape his name, his history, his shrink parents and his Jewish guilt. Not easy when he's surrounded by his father's penis paintings, rich and famous friends and the ambitious heartbreaking city itself." -Susan Shapiro, author of Speed Shrinking and Five Men Who Broke My Heart "Fast, funny, and sometimes a squirmingly uncomfortable ... Young's unflinching memoir adds much to the dialogue about America's quest for adulation, or at least some shiny, sparkling lights." -Whit Hill, author of Not About Madonna: My Little Pre- Icon Roommate and Other Memoirs.