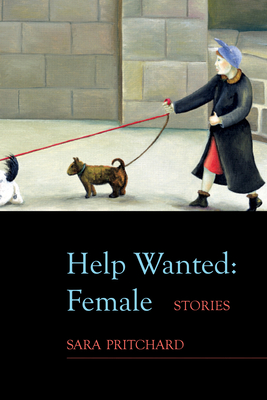 Help Wanted
Female
Paperback

* Individual store prices may vary.
Description
So there was all that: the ordinary twill of life; the ho-hum sturm und drang of the workplace: the ubiquitous absurdities, the annoying co-workers, the bloody deadlines and even bloodier bottom lines; the bland, eternal, Sisyphean, absolute, unrelenting, surreal certainty of the day-in-and-day-out of it all. Life as a slice of white bread, moistened with spit and rolled into a messy glob, a doughy ball that couldn't make the slightest dent in the iron gates of life.
But then, suddenly, on August 27, 2002, all that changed. Suddenly, Rae-Jean's uneventful life began to leaven and swell with hypotheticals. 'What if' grabbed a hold of it and pumped it a few times in its death grip.
The world in Sara Pritchard's book is a known world and yet a strange place, with a cast of homeless characters who wander in and out of the stories of the collection, all set in the same university town. The linked stories take place during the time when gender discrimination in the American workplace was blatant, and when classified ads were labeled male or female accordingly.
Sara Pritchard is the author of the novel-in-stories Crackpots, a New York Times Notable Book of the Year, and the critically acclaimed linked-story collection Lately. She's lived in West Virginia for over thirty years and teaches in the Wilkes University Low-Residency MA/MFA Creative Writing Program.
Etruscan Press, 9780983294481, 220pp.
Publication Date: July 9, 2013
About the Author
Sara Pritchard is the author of the novel-in-stories, Crackpots (2003), and the linked-story collection, Lately. Her new collection of stories, Help Wanted: Female will be published by Etruscan Press in 2012. Sara won the Bakeless Prize for Fiction in 2003 with Crackpots, which went on to become a New York Times Notable Book of the Year. She has been the recipient of other literary awards, including twice receiving a West Virginia Individual Artist's Literary Fellowship and in 2010, a Pushcart Prize for her story Two Studies in Entropy, which was originally published in New Letters, and is a part of Help Wanted: Female.